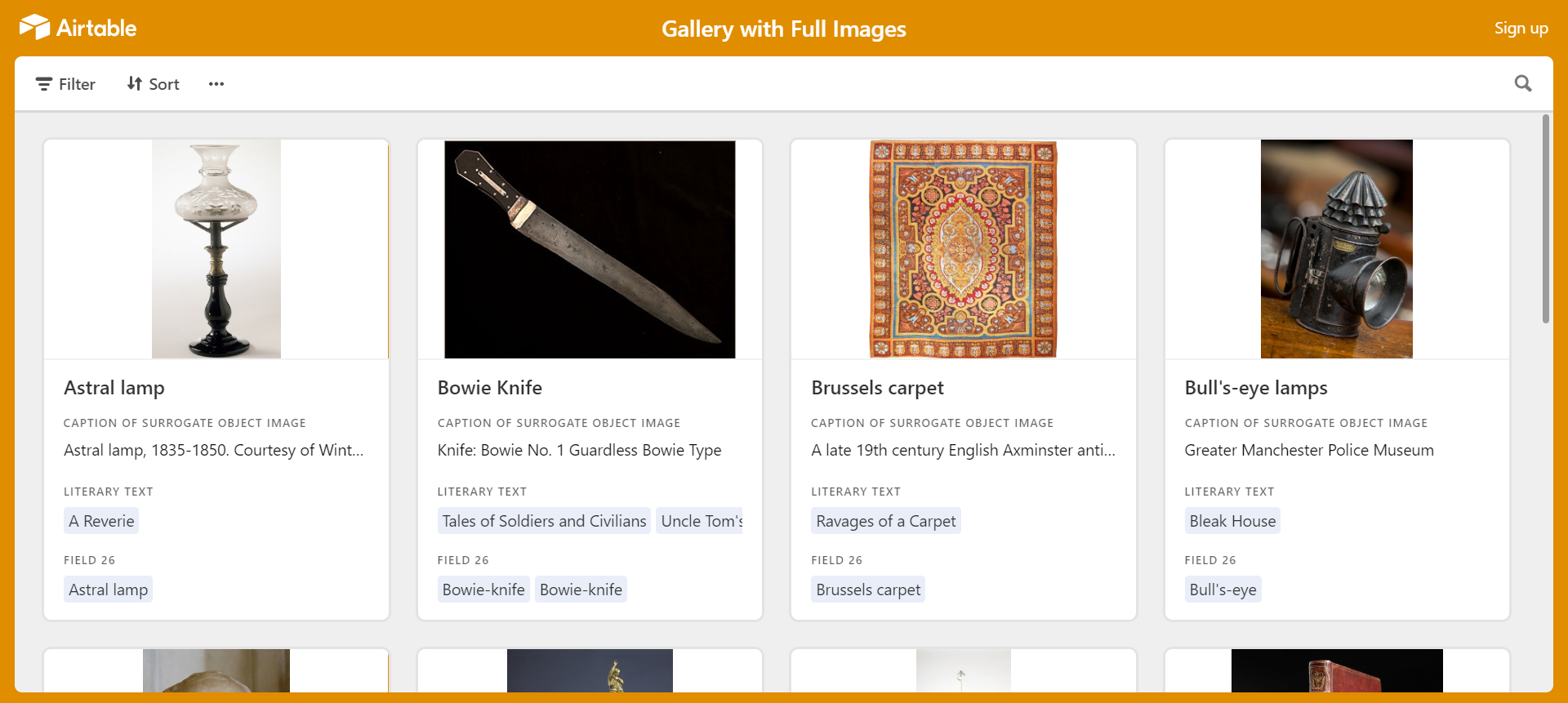 ThingStor is conceived as an interactive digital database enabling students and scholars to recognize, understand, and ultimately conduct new research on or teach with material objects referenced in the works of literature and the visual arts.
A database prototype—currently under construction using online gravity forms, Google Excel spreadsheets, and AirTables as the database's public interface—is collecting object references published in English and American literature between the 1850s and 1870s.  For each selected object, a data set of 67 vetted data points will allow ThingStor to illustrate, cross-connect, and explain objects as they appeared in the original source. Sample objects range from "watch paper" and the "Bowie knife," to "Brussels carpets" and "astral lamps," to "Berlin gloves" or "pocket-housewives."  Cross-referencing material objects and their artistic representation with biographical, geo-referenced, and historical information, the ThingStor prototype will be able to show how different generations of authors and artists engaged with artifacts and material culture; at the same time, it will show how certain objects or object classes shaped popular fiction and other creative productions across time and space.
Looking forward, ThingStor seeks to develop a greater searchable digital archive that tracks mundane and symbolic objects as they appeared in works reflecting American and English culture, including literature, paintings, or sculptures produced between the 17th and 20th centuries. To accomplish this, ThingStor seeks partners for developing computational and representational tools that can analyze and display large sets of textual and visual data. When fully operational, ThingStor will cross-connect object references with researched object descriptions, representative visual illustrations, and a host of other source information, including historical context, critical analysis, and critical sources. In addition, ThingStor will supplement its database with teaching and research tools in order to provide students and scholars with new approaches for exploring how objects and their material qualities—both representational and thematic—shaped popular stories and images over time. Ultimately, ThingStor will generate new knowledge about material culture and its intermedial and intercultural connections by asking such basic questions as, what kind of object classes circulated during particular periods? How did objects circulate in different media outlets and social or communication spaces? And, how did objects connect ideas about literature or the arts to larger social, economic or political debates?
To participate in the project's initial stage of data-collection please follow this link "WANTED: 1,000 OBJECTS". For more information, or to join the ThingStor Working Group on campus, contact Dr. Martin Brückner at materialculture@udel.edu.
ThingStor Working Group
Dr. Martin Brückner (English)
Jane Allen (Art History; UG)
Alba Campo Rosillo (Art History)
Petra Clark (English)
Michael Doss (English)
Shannon Finch (English-Art History; UG)
Adam Grimes (Art History)
Helena Kim (English)
Joe Nash (English)
Samantha Nystrom (English)
Rebecca Olsen (English)
Brett Seekford (English)
Victoria Sunnergren (Art History)
Rebeccah Swerdlow (Art History)
Jack Truschel (English)