---
SOCI/MCST449: Sociology of Art and Culture, F 2:30 – 5:30 — Fall 2019 
Dr. Anne E. Bowler, Department of Sociology & Criminal Justice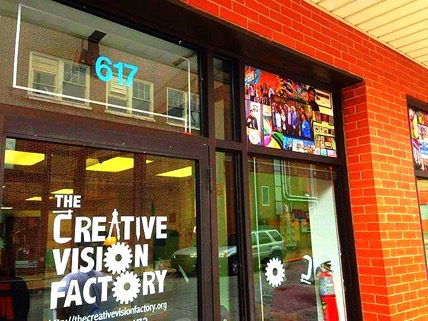 What does it mean to take a sociological perspective on the arts? This course will introduce students to ideas about art as a form of collective action, the role of culture and the arts in the creation and legitimation of social inequality, and the dynamics of the cultural field. For the Fall 2018 semester, we will be collaborating with Creative Vision Factory (CVF), a community arts organization located in downtown Wilmington that provides work and exhibition space to individuals on the behavioral health spectrum. Working with UD's newly formed Wilmington Archive Project, students will assist with work on a digital archive of CVF members' work. Readings and discussion in this part of the seminar will focus on the meaning and practice of community arts, the social uses of art in urban gentrification, and the rise of a market for self-taught art, also known as Outsider art. The course will include site visits to CVF, a class trip to the Philadelphia Museum of Art, training in digital archive work, and guest lectures. (3 credits) (Fulfills Capstone Requirement) Link to UDaily article https://www.udel.edu/udaily/2019/april/creative-vision-factory-online-art-gallery/
Permission of instructor required. Email abowler@udel.edu
---
ANTH424: Introduction to Archaeological Field Methods- "THE ARCHAEOLOGY OF THE NORTHAMPTON FURNACE" — Fall 2019 
Professor Adam Fracchia
Come and join us uncover the remains of a colonial iron furnace run by the Ridgely Family and help us document the lives of the enslaved and indentured servants who were forced work for the Ridgelys. Students will learn the fundamentals of archaeological field survey and excavation, including site and unit documentation, analysis, and how to present their findings.
Class Details
ANTH 424: Archaeological Field Methods (6 credits)
Location: Towson, Maryland (Transportation can be provided)
Time: Fridays from 9:00-16:00
Course Dates: 2019 Fall Semester
Please contact Adam Fracchia (fracchia@udel.edu) to register or for more information.
---
HIST268: American Ethnic Identities  — Spring 2019
Professor Rebecca L. Davis
Students in this course learn about the rise of the idea of "ethnic Americans" in the twentieth century and the ways that ideas of race, whiteness, and national belonging gave meaning to ethnicity. Through close readings of primary and secondary print sources, as well as objects, buildings, and oral histories, students collaborate on a class website that explains the meaning of and shifts in ethnic identities across a single decade.
HIST/SGST/WOMS387: The Queer Twentieth Century
Professor Rebecca L. Davis
This upper-level undergraduate course provides an in-depth overview of major ideas, events, controversies, and debates related to the LGBTQ experience in the 20th-century United States. We will learn from primary sources, including objects located in University Museums, digital archives, and oral histories, as well as from books and articles by historians. Students will create an original digital research project by the end of the semester.
---
ANTH/HIST/MCST 216: Introduction to Material Culture Studies
Dr. Lu Ann DeCunzo
Material culture studies–studies of the material world we have made–seek to understand people's cultural beliefs, values, ideas, and assumptions expressed in the things and places they create, use, see, and live in. This course introduces you to the rich potential of the material world to provide insights into American culture.  We will explore what material culture scholars from many disciplines  study, how they study it, why they study it, and what they have learned from it.
---
SOCI/MCST449: Sociology of Art and Culture
Dr. Anne E. Bowler
What does it mean to take a sociological perspective on the arts? This course will introduce students to ideas about art as a form of collective action, the role of culture and the arts in the creation and legitimation of social inequality, and the dynamics of the cultural field. For the Fall 2018 semester, we will be collaborating with Creative Vision Factory (CVF), a community arts organization located in downtown Wilmington that provides work and exhibition space to individuals on the behavioral health spectrum. Working with UD's newly formed Wilmington Archive Project, students will assist with the creation of a digital archive of CVF members' work. Readings and discussion in this part of the seminar will focus on the meaning and practice of community arts, the social uses of art in urban gentrification, and the rise of a market for self-taught art, also known as Outsider art. The course will include site visits to CVF, a class trip to the American Visionary Art Museum in Baltimore, training in digital archive work, and guest lectures. (3 credits)
---
HIST 223010: Nature and History
Dr. Cindy Ott
In this course, we will evaluate and discuss the ways that people have represented, cataloged, and displayed the natural world dating back to cabinets of curiosity in the Renaissance and up to present day wildlife TV programs. We will analyze how people the world over have thought about, organized, and exhibited plants and animals (including human beings) in venues, such as botanical dictionaries, gardens, zoos, museum dioramas, scientific illustrations, maps, TV and film, and nature parks.  As students will learn, the ways that people have represented nature has as much to do with society and culture, as it does about any objective truths about the natural world.
---
ENGL 205: British Writers 1 (600-1700)
Dr. Julian Yates
This course has been re-imagined as a course in how the object world and materials of writing (rag paper, parchment, ink, print, etc.) shaped literary production. We spend a good deal of time with rare books in special collections and just finished a unit on invisible or "sympathetic" inks and their use by the Jesuit underground, and as metaphorical conceits in amatory verse—here's some lemon writing from the class. Happy to have all comers in a class which tries to think about medieval and early modern "writing" in the broadest sense possible.
---
ARTH303: Art and Religion in the Iberian World
Dr. Mónica Domínguez Torres
This course focuses on religious monuments and artifacts created in the Iberian world c. 1492-1800, paying particular attention to the confluence of European, Islamic, African and Native American traditions in Spain, Portugal, and the Americas.
---
WOMS 324-010: "Oscar Wilde, Women, and Sexualities"
Dr. Margaret Stetz, Mae and Robert Carter Professor of Women's Studies and Professor of Humanities
This is a course in the history of sexualities, as seen through a study of the life and work of Oscar Wilde (1854-1900). We will consider what he meant to his contemporaries in the late-19th century, as well as how his political legacy has been interpreted and shaped through a variety of media since his death, paying special attention to his importance not only to LGBTQ movements, but to women's rights movements. Texts will be drawn from Wilde's plays and fiction, along with later adaptations of these works and representations of Wilde as a figure, such as Ken Russell's film Salome's Last Dance and Louis Edwards's 2003 novel about Wilde's African American valet. Course requirements include daily in-class writing, several short essays, and a final take-home essay.
(Print culture, publishing history, and relevant holdings in UD Library's Special Collections–especially the Oscar Wilde materials in the Mark Samuels Lasner Collection–will receive attention in this course.)
---
ENGL365: Studies in Literary Genres, Types, & Movements: "Digital Archive Production"
Dr. Jesse Erickson
The words and images you create become digital history that others can examine.  Your opinions might one day be the influence for a song, or a novel, or a film.  Future scholars might study you as context for the social, political, and economic times you've had a part in shaping.  In this course, we will collaborate on a web site to digitally archive the messages of people from the late 19th and early 20th century who created their versions of what we would consider tweets or Instagram posts.  We call their messages, ephemera: "items of collectible memorabilia, typically written or printed ones, that were originally expected to have only short-term usefulness or popularity." The ephemera we explore is from a special collection of postcards from the era of American minstrelsy.  Meaningful preservation of this work involves critical study and discussion of themes including popular culture, stereotypes, graphic design and digital humanities.
---
ART204: Media/Design/Culture
Dr. Jon Cox
Current and historical media processes and their impact on art, design and culture. Image making and manipulation, video, audio, interactivity, and connectivity. Viewing fine art and design projects, the historical aspects of design and digital media, basic media theory, and universal principles of software and digital media. Projects include writing, creating visual media, and making presentations. Unfamiliar media experienced firsthand through exhibitions, screenings, lectures, online exploration and consumer media devices.
---
ANTH103: Introduction to Prehistoric Archaeology
Dr. Jay Custer
The main focus of this course is the critical review of the methods used to infer past human behavior from the static material culture items that comprise the archaeological record of human societies that did not leave any written record of their cultures.
---

ENGL 347 "Literary Things: Material Culture in American Literature"
Professor Martin Brückner
This course explores the rise of "literary things" and examines how objects, from symbolic icons to everyday stuff, impact literary forms and genres in American literature between 1700 and 1900. Topics to be discussed are the rise of the "It-Narrative" and popular print culture; the birth of the modern "child" and the consumer revolution; literacy, gender, and self-representation; theatricality and performance; race and objectification; and the agency of "literary things" from eighteenth century Age of Reason to nineteenth century Sentimentalism and Realism. Readings include a few theoretical texts. Primary sources cover different genres (biography, travel narratives, folktales, drama, novels, magazine stories, textbooks, news).
---

ENGL 205 "British Writers 900-1700"
Professor Julian Yates
Traditionally taught as a literary historical survey, this course meets that burden but also attends closely to the object world of writing and reading. Working in reverse chronological order, we travel back from the world of books printed in paper made from rags to books made from parchment (animal skin), handwritten manuscripts, and oral poetry. The course includes units held in Morris Library's Special Collections on vellum, books of hours, Shakespeare's folios and quartos, and an in class experiment with writing in invisible ink. Typically, this course is offered every fall.
---

ENGL 110 "Critical Reading and Writing"
Professor Sarah Wasserman
Though the "subject" of this course is critical reading and writing, in my course we frame our inquiries around the topic of collecting. Everybody collects something: photographs, ticket stubs, shoes, pens, Apple devices, or "likes "on Facebook. We often think of a college education itself as a collection of courses or knowledge. And whether students are interested in the collection of data or in a collection of short stories, they see that the accumulation and curation of ideas and objects holds a central place in our scholarly and daily lives. In this course, students are invited to reflect on their own collecting practices.  In which ways might writing and collecting be similar? In which ways do they differ? We examine these questions in discussion, through reading, and in written work. We also visit Special Collections to learn more about the incredible objects that the UD library collects, maintains, and organizes.
---

ENGL 361-011 "Digital Cultures: How To Read the Internet"
Professor Sarah Wasserman
Has the Internet really "changed everything?" If so, how do we recognize and make sense of those changes? This interdisciplinary seminar offers examines the many ways in which the Internet has changed the way we experience, shape, and conceive of culture. This course introduces students to the dizzying array of components that constitute digital culture: technological forms, social practices, narrative structures, economic arrangements and political relations.
---

ENGL361-010 "Superheroes, Supervillains, and Sequential Art: Comic Books and Graphic Novels"
Professor Sarah Wasserman
From caped crusaders to intimate autobiography: comic books and graphic novels contain a wide range of characters and stories. They ask their readers to engage with both image and text—to reflect on how meaning is made on the page and what it means to read. In this course, students develop techniques for reading "sequential art," a medium that combines words and images. We study the history of the medium from its origin in turn- of-the-century newspaper comic strips to recent work by graphic novelists. We also consider the impact of digitization on the medium, as e- comics become ever more popular and innovative. By taking "the funnies" seriously and reading widely in literary and cultural theory along the way, we uncover the way that comics—and, more generally, narrative—work.
---

ARSC 390-086 "Civil War Stuff: Writing History Through Objects"
Professor Sarah Beetham
In this course, we will explore the significant objects used to wage, picture, and remember the American Civil War. Using methods from material culture studies, we will examine prints, photographs, fine art, weapons, textiles, medical objects, landscapes, memorials, and souvenirs to understand how objects can increase our understanding of how the Civil War happened and what it has meant to us as a nation. We will read testimonials from soldiers, witnesses, family members, enslaved people, artists, and statesmen of the Civil War along with works by scholars of material culture. Students will write brief response papers and two formal essays analyzing the representation of Civil War objects in popular culture. For their final project, students will be asked to write a research paper proposing an exhibition based on a theme related to the Civil War using the types of objects studied during the semester.
---
ART215 "Seeing and Being"
Professor Jon Cox
This course focuses on how people see, process and respond to visual information embedded in the world, from immediate personal environments to the larger places in which we live. Visual impact and social action are explored within contexts of change. Design thinking and innovation processes are highlighted.
---

SOCI/MCST449 "Sociology of Art and Culture"
Professor Anne Bowler
This course is designed to introduce students to a sociological framework for the analysis of culture and the arts. Topics include the role of culture in the creation and legitimation of social inequality, the historical emergence of a hierarchical division between the fine and popular arts, fashion, gender and culture, race and representation, public controversies over art, and Outsider Art.
---
WOMS 336: Feminist Cultural Studies, "The New Woman in Black and White"
Professor Margaret Stetz
In both Britain and the U.S., the turn-of-the-century was an exciting period for women in the arts and for feminist political struggle. Using a variety of works of fiction, journalism, essays, and memoirs by and about figures ranging from Ida B. Wells to Amy Levy, this course will examine the intersections of race with the fight for gender equality. We will also explore the increasing importance of visual culture at the start of the twentieth century thanks to the rise of photography, which opened opportunities for women as photographers and propelled to fame women whose careers depended upon the circulation of images, such as those who were dress designers. At the same time, we will consider the material changes in dress and the evolution of fashion as signs of women's shifting social roles.