From June 6-June 17, 2016, twelve graduate students from the University of Delaware participated in the Delaware Public Humanities Institute. Over the course of the summer more broadly, these students worked on projects related to material culture studies, preservation studies, and conservation studies.
Maribel Beas
Preservation Studies Program, Department of Art Conservation
Maribel's dissertation, "'Preservation of indigenous cultural landscapes," focuses on the tangible and intangible cultural heritage of the Ese'Eja people. The Ese'Eja people live in the Amazonian Rain Forest of Peru and Bolivia, and are facing many challenges: displacement from their ancestral lands, illegal mining, and deforestation to name a few. This summer, Maribel will travel to Puerto Maldonado to contact the tribe elders and leaders, examine their immediate needs and start a Preservation Plan.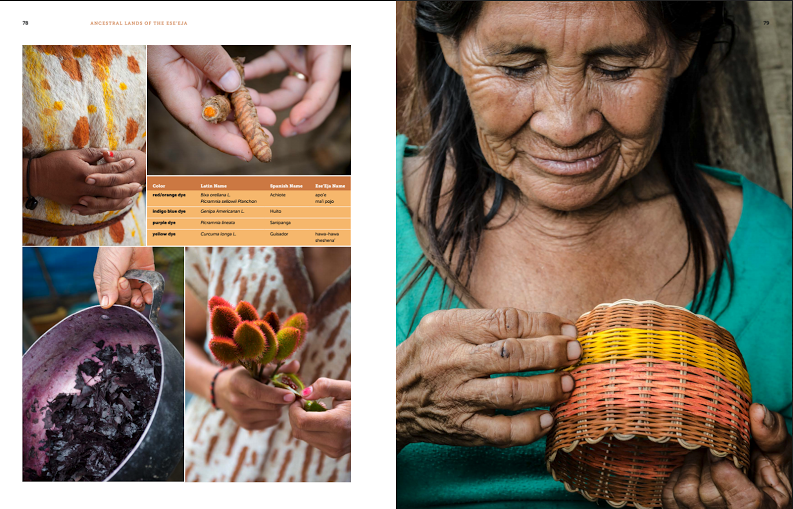 ---
Caitlin Hutchison
Department of Art History
Caitlin's dissertation, "The High Cross of Ireland: Landmarks of Patronage, Power, and Protection" focuses on a premier art object of Ireland's "Golden Age," the "High Cross." This sculptural type is characterized by its ring-enclosed crossing, great size rising anywhere from ten to twenty-three feet, and superbly carved decorative programs consisting of panels of Christian iconography and complex "Celtic" interlace. Her project investigates the high cross's form, context of creation, and motivations of patronage through its locality. This summer, Caitlin will travel to undertake on-site research to observe high crosses, their forms and their interactions with the landscape of Ireland.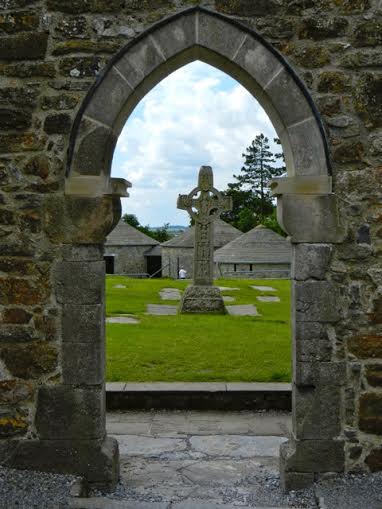 Muiredach's High Cross at Monasterboice, Ireland
---
Margarita Karasoulas
Department of Art History 
Margarita's dissertation, "Mapping Immigrant New York: Race and Place in Ashcan Visual Culture," explores the racial significance of Ashcan School imagery in the context of period debates about immigration. This summer, Margarita will undertake archival research on the Ashcan artists John Sloan, Everett Shinn, and George Bellows, as well as newspaper and microfilm research at the New York Public Library.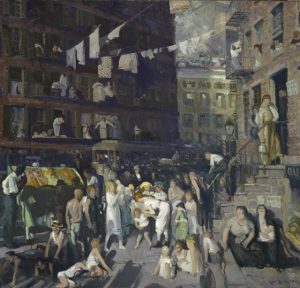 George Bellows, Cliff Dwellers, 1913. Los Angeles County Museum of Art.
---
Sarah Leonard
Department of Art History
Sarah's dissertation, "'The Beauty of the Bough-hung Banks': William Morris in the Thames Landscape," examines the varied and sometimes contradictory manifestations of the River Thames and its surroundings in the life and works of Morris, the Victorian designer, writer, Socialist, and industrialist. This summer, she will pursue research at the University of Delaware's Morris library and the Delaware Art Museum before traveling to England to visit the landscapes at the center of her project: Morris's homes at Kelmscott on the Upper Thames and Hammersmith and Walthamstow in London, and his factory site at Merton, also in London.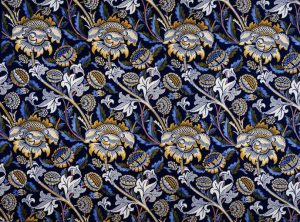 William Morris, Wey, 1883. Indigo discharge and block printing on cotton. Victoria and Albert Museum.
---
Ellen Nigro
Winterthur / University of Delaware Program in Art Conservation
Ellen will spend eight weeks this summer at the Rhode Island School of Design Museum working under the supervision of Museum Conservator Ingrid Neuman to conserve Dutch and Flemish frames for an upcoming exhibition. Her summer goals are to gain a better understanding of the construction and condition issues of historic frames and gilded surfaces, as well as conservation techniques used in the preservation of these materials.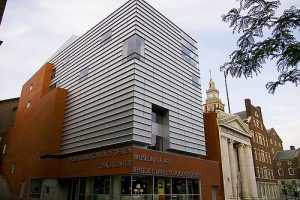 Museum at Rhode Island School of Design
---
Juan Pablo
Department of Fine Arts
Juan will be working at the Museo del Oro in Bogotá, Colombia during the summer of 2016. As a sculptor, he draws from pre-columbian cosmologies and the uses the artifacts of funeral rituals as inspiration for his pieces and installations. At the museum, Juan will have private access to  artifacts from the collection in order to create a series of drawings and watercolors inspired by the pieces.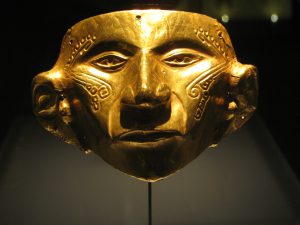 Golden mask of high Quimabaya period 300 ACE, Museo del Oro
---
Jacquelyn Peterson
Winterthur / University of Delaware Program in Art Conservation

Jacquelyn will spend the summer at Peebles Island Resource Center, headquarters for the Bureau of Historic Sites for the state of New York. The center is charged with the care of the collections of 35 state historic sites and 170 state parks. Her work will focus on surveying and treating a collection of historic costumes that belong to Olana, the historic home of Frederic Church. Additional projects will include research to identify carpet runners appropriate for use in historic house museums and the research and implementation of preventive conservation measures for textile collections in several historic New York State institutions. 
---
Maria João Petisca
Preservation Studies Program, Department of Art Conservation
João's doctoral research examines Chinese lacquer and its production for the export market. Her study combines scientific analysis and archival research to investigate how these objects were created and traded. This summer João will work at Winterthur Museum's Scientific Research and Analysis Laboratory as well as in several historic archives in Lisbon, Portugal.
See Maria's work featured on the Conversant blog here.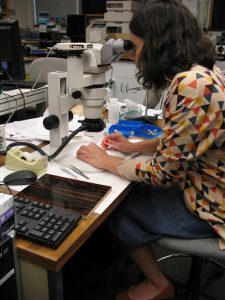 Petisca preparing a lacquer sample for analysis at the Winterthur Museum's Laboratory
---
Amaris Sturm
Winterthur / University of Delaware Program in Art Conservation
Amaris will be working in the object conservation lab at the University of Pennsylvania Museum of Archaeology and Anthropology for the summer of 2016. Working within the university museum collection and a multi-disciplinary academic community, she will gain hands-on treatment and research experience with objects covering thousands of years of human history, ranging from Buddhist murals to Middle Eastern artifacts.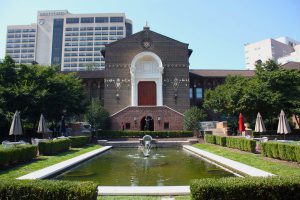 Object Conservation Laboratory at UPenn 
---
Kristen Semento
Winterthur Fellow in American Material Culture
Kristen is a Lois F. McNeil fellow in the Winterthur program with special interest in the History of American Medicine during the 18th and 19th centuries. Kristen's research examines the social, financial, emotional, political, and legal factors contributing to the accumulation of unclaimed cremated remains in American medical and funerary institutions.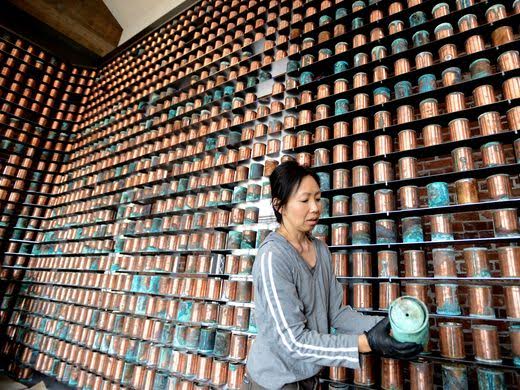 The State Hospital of Oregon's collection of unclaimed cremains
---
Josh Summer
Winterthur / University of Delaware Program in Art Conservation
Josh will be working on 18th-century frescoes this summer with the faculty of the Departamento de Concervación y Restauración de Bienes Culturales at the Universitat Politécnica de Valencia in Valencia, Spain. The project will include conservation treatment of wall paintings by Antonio Palomino in two large churches in Valencia in addition to other murals around the city. He will learn new techniques for cleaning these precious frescoes, including the use of live bacteria to reduce disfiguring grime and previous restoration materials in order to restore the artist's original intent. He will be working in the "tambor de la cúpula," or "drum of the dome."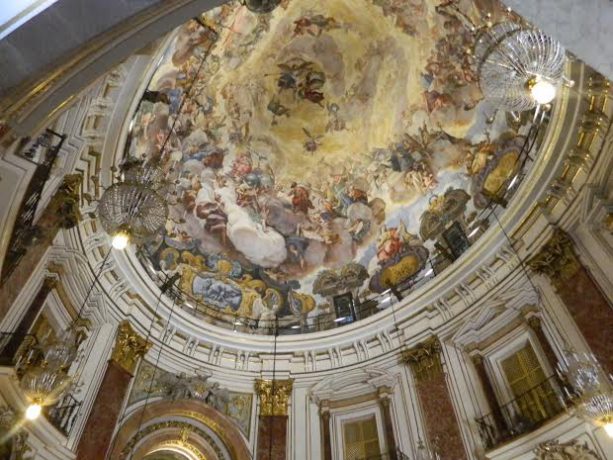 Cupula of the Basílica de la Virgen de los Desamparados de Valencia 
---
Spencer Wigmore
Department of Art History
Spencer's dissertation "Albert Bierstadt and the Speculative Terrain of American Landscape Painting" explores the intersection of high art and high finance. One of the most American painters in the second half of the nineteenth century, Bierstadt was involved in a number of controversial practices of stock and real estate exchange, known as "financial speculation." His monumental landscape paintings encouraged viewers to picture the United States as if they were prospective speculators. This summer, Spencer will conduct museum and archival research trips. He hopes to build an interactive digital map that charts the circulation of Bierstadt's paintings in relation to his financial ventures and those of his patrons.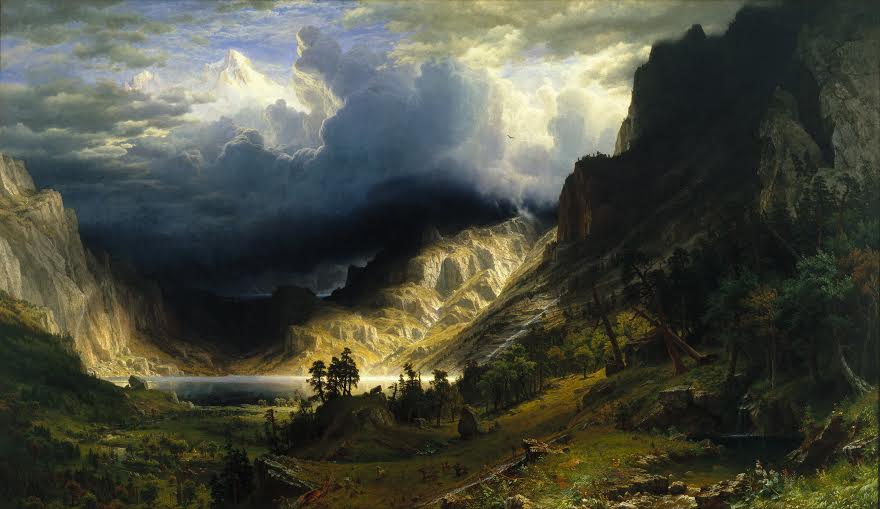 Albert Bierstadt, Storm in the Rocky Mountains (1866), Brooklyn Museum