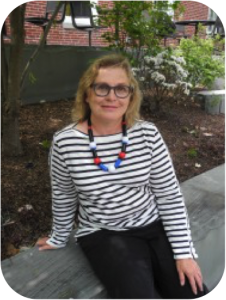 Katherine Grier (Kasey)
| | |
| --- | --- |
| Position: | Professor, Department of History / Director, Museum Studies Program |
| Office: | 77 E. Main Street, Ste 112, Newark DE 19716 |
| Phone: | 302-831-2388 |
| Fax: | |
| Email: | kcgrier@udel.edu |
Katherine C. (Kasey) Grier is professor in the Department of History and director of the Museum Studies Program. She also directs the American Civilization track of the Department of History's doctoral program (http://www.udel.edu/amciv/). Founded in 1982, the "Am Civ" program focuses on the study of American material culture in the context of American history. Graduates have pursued successful careers in both the academy and cultural institutions.
A graduate of the Cooperstown Graduate Program in Museum Studies (M. A. 1980) and the American Civilization Program in the University of Delaware Department of History (Ph.D. 1988), Kasey Grier's career integrates work in museums and in the academy, including curating exhibitions and consulting on matters of interpretation and digital access to collections. She is the author of Culture and Comfort: Parlor-Making and Middle-Class Identity, 1850-1930 and Pets in America: A History, along with articles and several exhibition catalogs.
Kasey Grier's current research continues to explore the relationships between people and non-human animals, including the practice of reshaping animal bodies through "fancy breeding" for competitive exhibition; the development of the market for pet equipment and supplies; and the material culture of the modern animal shelter. Her blog The Pet Historian (http://www.thepethistorian.com) considers the material and visual culture associated with keeping pet animals; it has an international readership.
Along with graduate reading seminars on American material culture from the mid- nineteenth century to the present, Kasey Grier gets students involved with the study of objects in a variety of ways. A recent project, Disposable America (http://www.disposableamerica.org) uses digital artifact biographies to explore the history of disposability and the complex relationship of Americans to their trash. The product of a graduate writing seminar in 2014, Disposable America continues to grow as both graduate and undergraduate students contribute to its content through coursework. Kasey notes, "Ordinary, everyday objects are often the best way to get students involved in material culture research. The projects seem "low stakes" and non-threatening, but they open up rich avenues for research as students move back in time to learn the complex origins of their material environment."
The Museum Studies Program, a certificate program open to any fully matriculated graduate student at the University of Delaware (http://www.museumstudies.udel.edu/), offers graduate students another way to engage with artifacts, building fundamental skills in collection assessment, handling and care for both artifact and archival collections through course practicums and internships. Students undertaking the certificate also are introduced to the practices, ethics and legal requirements of public collecting and collection management. Beginning in 2016, an undergraduate minor in Museum Studies will offer undergraduate a variety of avenues for getting involved with collections and collecting institutions.