With support provided by the National Endowment for the Humanities, fourteen ten-week summer fellowships were awarded to MA and PhD students in the arts, humanities, and social sciences pursuing research in material culture studies, broadly defined here to include the conservation of objects as well as the scholarly investigation of relationships among people, material processes, and objects. Fellowship recipients will participate in a two-week Institute from May 30 – June 9, during which they will learn a variety of skills for engaging non-specialists through public speaking and digital media. Over the course of the summer, participants will work on projects related to material culture studies, preservation studies, and conservation studies. Learn more about the participants and their projects below.
Dona Altemus
Department of Art & Design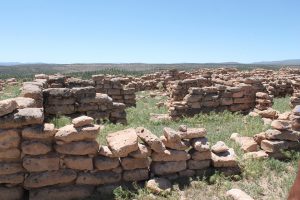 Altemus' project centers on how architecture forms a record of its inhabitants, providing a pathway to the past. She will compare the prehistoric cliff dwellings of the American Southwest with the island capital of Havana, Cuba to unravel each site's relation to isolation. Her analysis will investigate buildings as objects that archive narratives of influence, migration and as responses to the environment of each region.
---
Denise Burgher
Department of English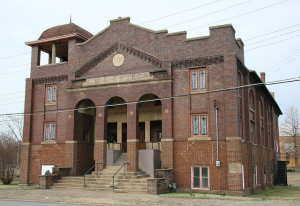 Denise is interested in beginning an inquiry into the work, lives and textual productions of the unnamed or relatively unknown Black women in the AME church whose life and efforts constituted the substance of the work of the Black church and by default the Black nation.
Image caption: 1918 A.M.E. Church, Cairo, Illinois
---
Petra Clark
Department of English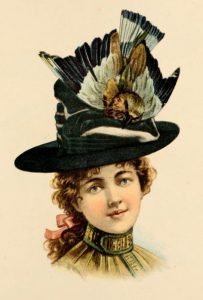 Petra's dissertation, Reading Aestheticism: Taste and Visual Literacy in Late-Victorian Women's and Girls' Periodicals, centers on the representation of the late-nineteenth century Aesthetic movement in the British and American periodical press. Since a core principle of Aestheticism was its focus on beauty and refinement in design, the extravagance of late-nineteenth century women's dress often became a target for criticism and reform. However, the vogue for feathered accessories in particular resulted in backlash from naturalists, animal rights advocates, and aesthetic commentators alike. This summer, Petra will delve into the use of taxidermy birds in women's hats, conducting archival research on the ways in which such examples of "murderous millinery" were marketed, worn, and discussed.
Image caption: No. 15. Fine Millinery: Fall and Winter Styles for Ladies, Misses and Children, 1899-1900 (New York: H. O'Neill & Co., 1899). Winterthur Museum & Library (digitized by the Internet Archive).
---
Kelli Coles
Department of History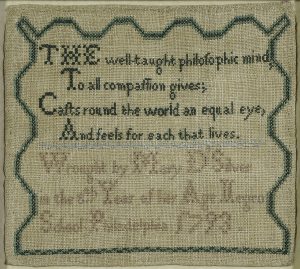 Kelli will be conducting archival research to understand and center the influence of nineteenth century African Americans on the social fabric of Philadelphia, Pennsylvania. Through a Black material culture lens, she will mine the archives to understand the ways African Americans fused their African heritage and the European-American society in which they made their home. She will spend her summer in Philadelphia, hosted by the Library Company of Pennsylvania.
Image caption: Courtesy, Winterthur Museum, Marking sampler by Mary D'Silver at Bray Associates Negro School,  Philadelphia, PA, 1793, Silk on Linen, Museum purchase with funds provided by the Henry Francis du Pont Collectors Circle, 2014.33
---
Michele Frederick
Department of Art History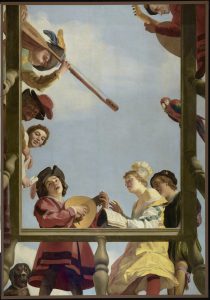 Michele's dissertation, "Shaping the Royal Image: Gerrit van Honthorst and the Stuart Courts in London and The Hague, 1620-49," focuses on the Dutch artist Gerrit van Honthorst, who served as royal portraitist to Charles I of England and his sister Elizabeth Stuart, the exiled Queen of Bohemia in The Hague. It explores Honthorst's role as intermediary between the courts of Charles and Elizabeth, to shed new light on the many ways that he both shaped and was shaped by the demands of the royal image. This summer, Michele will visit museums in the Western and Midwestern United States, to conduct object research on paintings by Honthorst in several US collections.
Image caption: Gerrit van Honthorst (Dutch, 1590 – 1656) Musical Group on a Balcony, 1622, Oil on panel 309.9 x 216.4 cm (122 x 85 3/16 in.) The J. Paul Getty Museum, Los Angeles
---
Anna Lacy
Department of History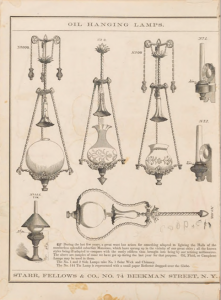 Anna's dissertation examines household accidents and emergencies between the late eighteenth and late nineteenth century. Over the summer, Anna will study the changes in lighting technologies between the late eighteenth and early twentieth century in the United States by looking at a range of devices including fat and grease lamps, candles and candle molds, rush lights, whale oil lamps, camphene lamps, as well as gas and electric lighting materials. Additional projects include creating a multimedia timeline of the history of lighting technologies as well as a series of lesson plans to accompany it.
Image Caption: Oil hanging lamps from Starr, Fellows, and Company's 1856 catalog of lamps and gas fixtures.
---
Chelsea Leiper
Department of Geography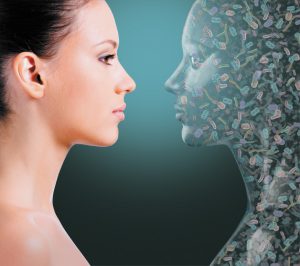 Chelsea's dissertation, "Re-wilding the Body in the Anthropocene: Lessons from the Microbiome and the Paleo Diet," investigates how health discourses surrounding the human microbiome and the Paleo Diet and lifestyle movement have brought ideas of wildness to the scale of the body and how this discourse has been translated into dietary and consumption practices in order to create and maintain healthy bodies in the Anthropocene. This research explores the implications of "re-wilding" health trends for ameliorating (and re-defining) the relationship between the human and non-human, or "nature," and health. This summer, Chelsea will complete her fieldwork conducting surveys and interviews with probiotic consumers and Paleo Dieters and begin performing data analysis of results.
---
Reyhane Mirabootalebi
Preservation Studies Program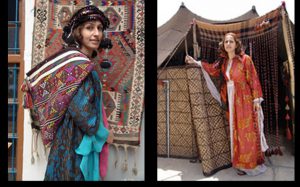 Reyhane's research focuses on preservation strategies and the impacts of ongoing regional conflicts on Kurdish textile traditions in Northern Iraq. Factors such as loss of human lives, relocation, destruction or limited access to habitats, and economic instability, will be explored in the context of potential redevelopment and regeneration of traditional practices. She will study means of preservation of arts and material culture within communities with an emphasis on active participation of the communities. This summer Reyhane will undertake a collection-based research related to my dissertation topic. Her plan is to visit major collections and museums in the United States where textiles from the Near East are held, including Textile Museum in the George Washington University, the Metropolitan Museum of Arts and the Philadelphia Museum of Art.
Image caption: Courtesy of Kurdish Textile Museum, Kurdistan of Iraq, http://www.kurdishtextilemuseum.com/Weaving/Clothes-making.html
---
Kiersten Mounce
Department of Art History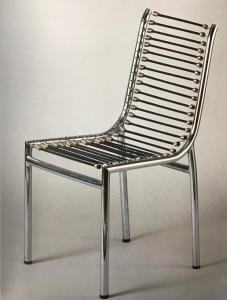 Kiersten's dissertation, "The Revolutionary Life of the Chaise sandows," explores the intersection of design, exercise culture, and politics in interwar France. It does so by focusing on the history of a single chair, the Chaise sandows, designed by the architect René Herbst. This summer, she will undertake foundational research in Herbst's archives at the Musée des arts décoratifs and the Bibliothèque Forney in Paris.
Image caption: René Herbst, Chaise sandows, 1930 (Re-issued). Photo credit: Solange Goguel, René Herbst. Paris: Editions du Regard, 1990.
---
Hillary Neben
Department of History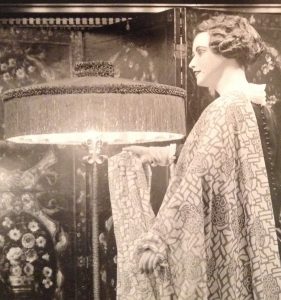 Hillary's forthcoming dissertation examines mannequins as symbolically dense material objects significant to the history of gender, sexuality, race, and capitalism in the United States.This summer Hillary will be conducting research on major US department stores across the country that will aid her in contextualizing mannequins on display at Wanamaker's and other east coast stores.
---
Galina Olmsted
Department of Art History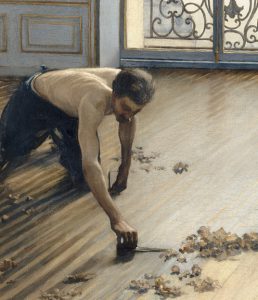 Galina's dissertation, "Making and Exhibiting Modernism: Gustave Caillebotte in Paris, New York, and Brussels," proposes a sustained analysis of Caillebotte's paintings in the context of his multidimensional practice as an artist, collector, and exhibition organizer. To date, Galina has traveled to twenty-four cities to study all of the paintings by Caillebotte held in public collections in the United States. This summer, Galina will integrate her research at these museums with the contemporary critical reception of Caillebotte's paintings through the use of digital archives and relevant collections of contemporary criticism at New York institutions, such as the New York Public Library and the Archives of the National Academy.
Image caption: Gustave Caillebotte, The Floor Scrapers, 1875. Musée d'Orsay, Paris.
---
Mina Porell
Winterthur-UD Program in Art Conservation
As a second-year graduate fellow in paintings conservation at the Winterthur/University of Delaware Program in Art Conservation, Mina will spend eight weeks at Stichting Restauratie Atelier Limburg (SRAL) in Maastricht, The Netherlands, this summer. SRAL is a non-profit organization of international renown, engaged in the conservation of historic, modern, and contemporary artistic and cultural heritage. With a focus on paintings and painted surfaces, murals, objects, and gilt leather, SRAL is a regional center, serving both cultural institutions and private clients. Under the supervision of Jos van Och, Paintings Conservator and Head of Conservation, Mina is looking forward to working with a variety of painted materials and learning about the methodology, materials, and conservation philosophy of her European colleagues.
---
Allison Robinson
Winterthur Program in American Material Culture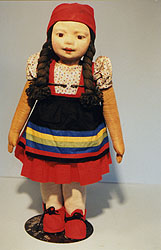 Allison's master's thesis focuses on the Milwaukee Handicraft Project, a WPA program that hired an interracial workforce totaling nearly 5,000 women to produce decorative arts goods from 1935 to 1943. Her research seeks to understand representations of race and gender in the dolls that they crafted, focusing on their design, production techniques, distribution of labor for their production, and network of distribution. This summer, Allison will conduct material, documentary, and oral history research in Wisconsin at institutions including the Milwaukee Public Museum, the Museum of Wisconsin Art, and the Milwaukee County Historical society.
---
Claire Taggart
Winterthur-UD Program in Art Conservation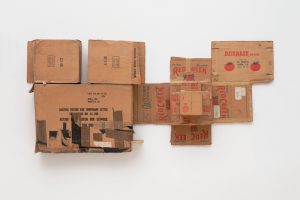 Claire will spend ten weeks this summer at the San Francisco Museum of Modern Art (SFMOMA). Her internship will be based in the objects conservation lab, and will involve the research and treatment of artwork in the SFMOMA's collection. Special focus will be paid to the work of Robert Rauschenberg in preparation for a retrospective to open in the Fall of 2017.