SUMMER RESEARCH FELLOWSHIPS IN MATERIAL CULTURE STUDIES
DELAWARE PUBLIC HUMANITIES INSTITUTE (DELPHI)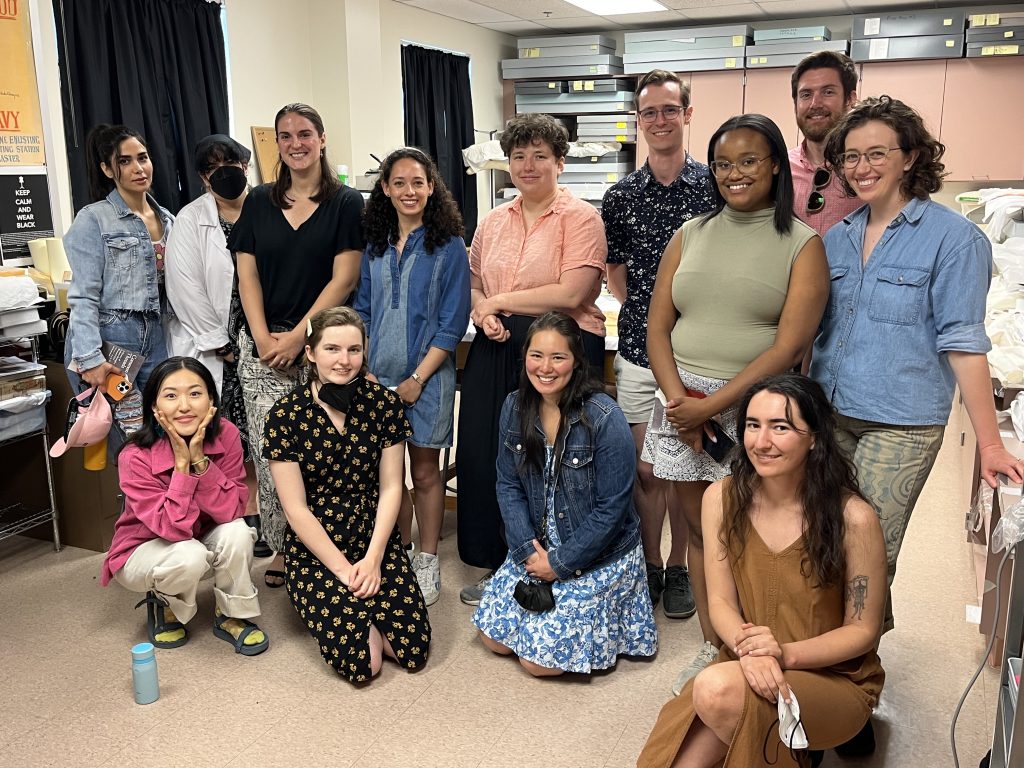 Welcome to the Delaware Public Humanities Institute at the University of Delaware!
The Center for Material Culture Studies is proud to support the development of graduate students who study material culture at University of Delaware and want to enhance their engagement with non-academic publics. Committed to interdisciplinary conversation, DELPHI Fellows have come from departments throughout the humanities including Art, Art History, Art Conservation, English, Geography, History, and the Winterthur Program in American Material Culture. CMCS welcomes interest from any University of Delaware graduate student committed to the pursuit of material culture scholarship, research, and public engagement.
With support provided by the National Endowment for the Humanities (NEH), up to twelve $5,000 ten-week summer fellowships are awarded to University of Delaware MA, MFA, and PhD students in the arts, humanities, and social sciences pursuing research in material culture studies each year. Our Fellows pursue graduate projects in material culture studies focusing on the scholarship and conservation of objects and the relationships among people, material processes, and things. In order to promote a fruitful interdisciplinary exchange, DELPHI encourages conversation across disciplines. In the past, DELPHI Fellows have come from a diverse range of departments including Art, Art Conservation, Art History, English, Geography, History, and Architecture/Design.
Fellowship recipients participate in a two-week Summer Institute during which they learn a variety of skills for engaging non-specialists with their research projects and interests. The Institute includes seminars, workshops, and hands-on experience with public speaking, digital media, and the marketing of their work. At DELPHI, Fellows become a part of a dynamic cohort of scholars who are committed to material culture studies and encouraging public engagement with academic research. Fellows also receive mentorship and guidance from accomplished material culture scholars dedicated to their success. Opportunities for mentorship and alumni networking continue after the Institute, providing DELPHI Fellows with invaluable support as they develop in their graduate programs and professional careers.
The DELPHI Fellowship funds uninterrupted summer research for the participants' projects. Fellows are not permitted to accept additional awards (except in the case of a travel award) or participate in paid work/internships or fellowships over the course of the summer. Fellows may participate in unpaid internships/fellowships or travel, provided these responsibilities do not interfere with their attendance in the institute. Attendance throughout the two-week Institute is mandatory to receive fellowship funding.
Per NEH guidelines, only continuing graduate students at the University of Delaware are eligible to apply. This means students must be enrolled in their degree program for the Fall semester that follows their summer at the Institute.
As a condition of accepting a DELPHI award, Fellows agree that during the academic year following the Summer Institute, they will:
Submit a one-paragraph summary of their research, along with an image, to be published on the CMCS website by the end of summer term
Present their work as part of the Osher Lifelong Learning Institute spring course "Objects as Cultural Artifacts"
Develop and implement a public forum and/or participate in activities that engage with a non-academic public. Examples of public engagement may include facilitation of a workshop, class, or exhibition.
Submit a one-page report summarizing the public engagement project, and proof of its implementation, by May 31st of the year following participation in the institute.
If you are interested in becoming a DELPHI Fellow, we encourage you to apply! Follow the links below to explore further information regarding deadlines, applications, and past cohorts:
How to Apply
Past Participants and Their Projects
Alumni: Where Are They Now?
Frequently Asked Questions (FAQs)