The 17th Material Culture Symposium for Emerging Scholars, "From Hogarth to Hypebeast: The Materiality of Popular Cultures," will take place on April 21–22, 2023 with a keynote address by Dr. Jonathan Michael Square, Assistant Professor at Parsons School of Design.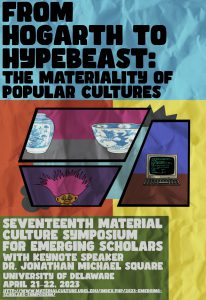 This symposium will trace the materiality of popular culture from earlier periods to the present in order to think expansively about long historical arcs and key differences over time. We are especially interested in how popular culture's materiality persists even digitally. What does it mean to be a viral material in the past, present, and future? By merging the interdisciplinary study of popular media with material culture studies, we invite participants to reflect on the politics of popular culture; cultural trends and material practice; and virtual space and mass media technology.
This symposium will explore the dynamic relationship between popular and material cultures across time, place, and medium. By emphasizing the fluidity between material and popular cultures, we encourage critical thinking about the ways people share their ideas and cultural fascinations. This conference suggests that "popular culture" is a cumulative archive of human experience. In this way, popular culture is always material, even when it appears otherwise.
How do cycles of popularity allow us to re-evaluate and negotiate the historical significance of material cultures as they move through our collective consciousness? We now navigate trends, fads, and shifting markets at unprecedented rates but have yet to understand fully how this shapes and changes our perception of the offline material world. The volatility of the present demands that we look backwards to consider how popular and material cultures have shaped our societies and that we look forward to imagining what the future might bring.
In addition to exploring the materiality of historical and contemporary popular culture, we aim to consider how the discipline of material culture studies can illuminate our present cultural environment, from porcelains and scrapbooks to Pyrex and slime. How does popular culture inform the stories we tell about our material past? How can those stories shape our understanding of the present and future?  We look forward to exploring the distinctions and ambiguities between the popular and material that inform our current moment.
Visit the symposium website to learn more!