Below you'll find recent publications from faculty affiliated with the Center. Publications are listed in chronological order, beginning with the most recent. Click the title of the book to view the publisher's page.
---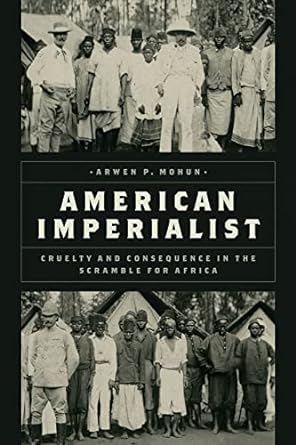 Arwen P. Mohun
American Imperialist: Cruelty and Consequence in the Scramble for Africa (University of Chicago Press, 2023)
This biography of "African explorer" Richard Dorsey Mohun, written by one of his descendants, reveals how American greed and state power helped shape the new imperial order in Africa. Richard Dorsey Mohun spent his career circulating among the eastern United States, the cities and courts of Europe, and the African continent, as he served the US State Department at some points and King Leopold of Belgium at others. A freelance imperialist, he implemented the schemes of American investors and the Congo Free State alike. Without men like him, Africa's history might have unfolded very differently. How did an ordinary son of a Washington bookseller become the agent of American corporate greed and European imperial ambition? Why did he choose to act in ways that ranged from thoughtless and amoral to criminal and unforgivable?
With unblinking clarity and precision, historian Arwen P. Mohun interrogates the life and actions of her great-grandfather in American Imperialist. She seeks not to excuse the man known as Dorsey but to understand how individual ambition and imperial lust fueled each other, to catastrophic ends. Ultimately, she offers a nuanced portrait of how her great-grandfather's pursuit of career success and financial security for his family came at a tragic cost to countless Africans.
---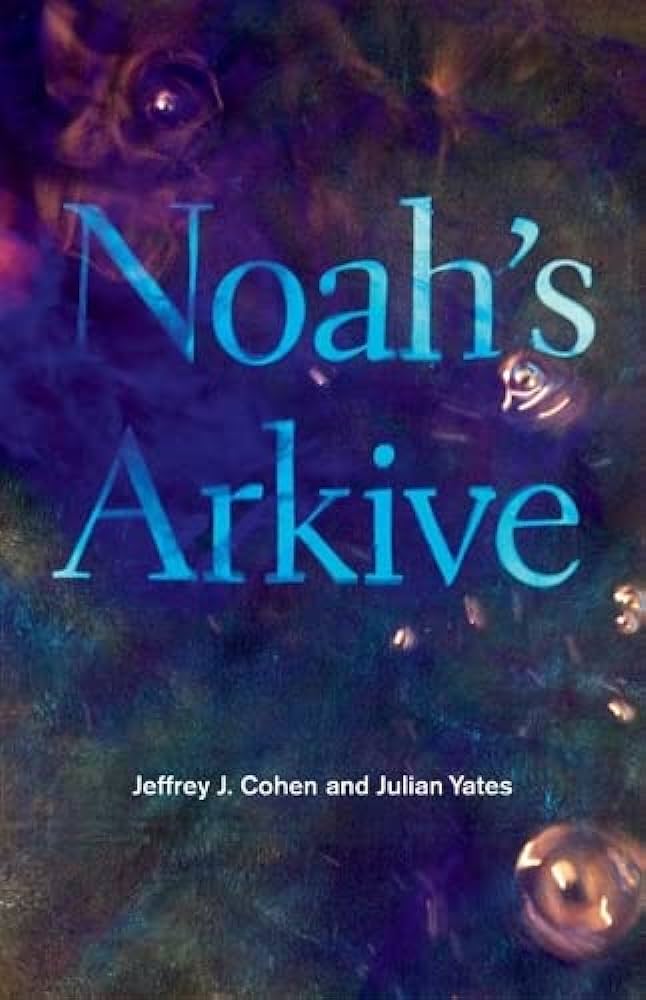 Jeffrey J. Cohen and Julian Yates
Noah's Arkive (University of Minnesota Press, 2023)
Most people know the story of Noah from a children's bible or a play set with a colorful ship, bearded Noah, pairs of animals, and an uncomplicated vision of survival. Noah's ark, however, will forever be haunted by what it leaves to the rising waters so that the world can begin again.
In Noah's Arkive, Jeffrey J. Cohen and Julian Yates examine the long history of imagining endurance against climate catastrophe—as well as alternative ways of creating refuge. They trace how the elements of the flood narrative were elaborated in medieval and early modern art, text, and music, and now shape writing and thinking during the current age of anthropogenic climate change. Arguing that the biblical ark may well be the worst possible exemplar of human behavior, the chapters draw on a range of sources, from the Epic of Gilgamesh and Ovid's tale of Deucalion and Pyrrah, to speculative fiction, climate fiction, and stories and art dealing with environmental catastrophe. Noah's Arkive uncovers the startling afterlife of the Genesis narrative written from the perspective of Noah's wife and family, the animals on the ark, and those excluded and left behind to die. This book of recovered stories speaks eloquently to the ethical and political burdens of living through the Anthropocene. Following a climate change narrative across the millennia, Noah's Arkive surveys the long history of dwelling with the consequences of choosing only a few to survive in order to start the world over. It is an intriguing meditation on how the story of the ark can frame how we think about environmental catastrophe and refuge, conservation and exclusion, offering hope for a better future by heeding what we know from the past.
---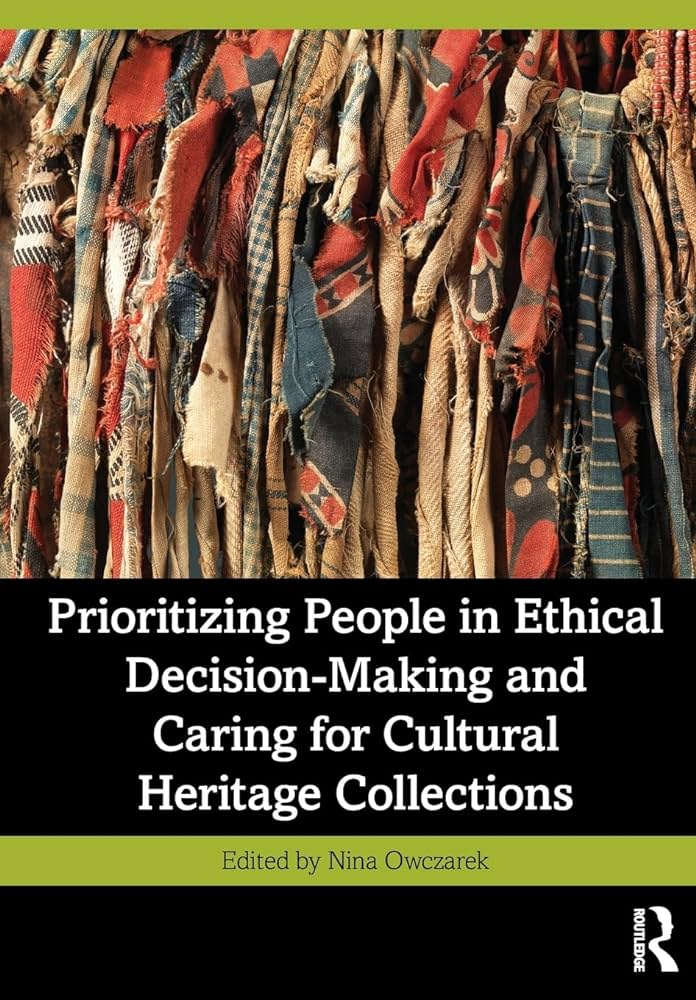 Nina Owczarek
Prioritizing People in Ethical Decision-Making and Caring for Cultural Heritage Collections (Abingdon, England: Routledge, 2023)
While historically focusing on the object, the study of ethics in conservation has expanded to consider the human aspect of conservation work. This book offers a flexible framework to guide decision-making in line with this development, offering an inclusive, compassionate approach to collections care. This edited volume contributes theories and international examples for advancing conservation practice and providing best practice for the field that centers people in conservation of cultural heritage and collections care. The first part examines the ethical theory that underpins conservation decision-making by challenging outdated norms, introducing updated methods, and demonstrating new ways to approach compassionate collections care. The second part considers the challenges of human-centered ethics in conservation practice, while the final part provides real-world examples and case studies of these best practices in action, including successful challenges to colonial authority. By presenting both theoretical and practical aspects of prioritizing people, this volume establishes the need for rethinking conservation approaches while demonstrating how to do so effectively.
Combining theory and practice, Prioritizing People in Ethical Decision-Making and Caring for Cultural Heritage Collections is valuable reading for conservation professionals, including collections managers, conservators, curators, and registrars. It will also benefit students working in Cultural Heritage Conservation, Museum studies, and Heritage Studies, as well as those taking courses in Art History and Anthropology.
---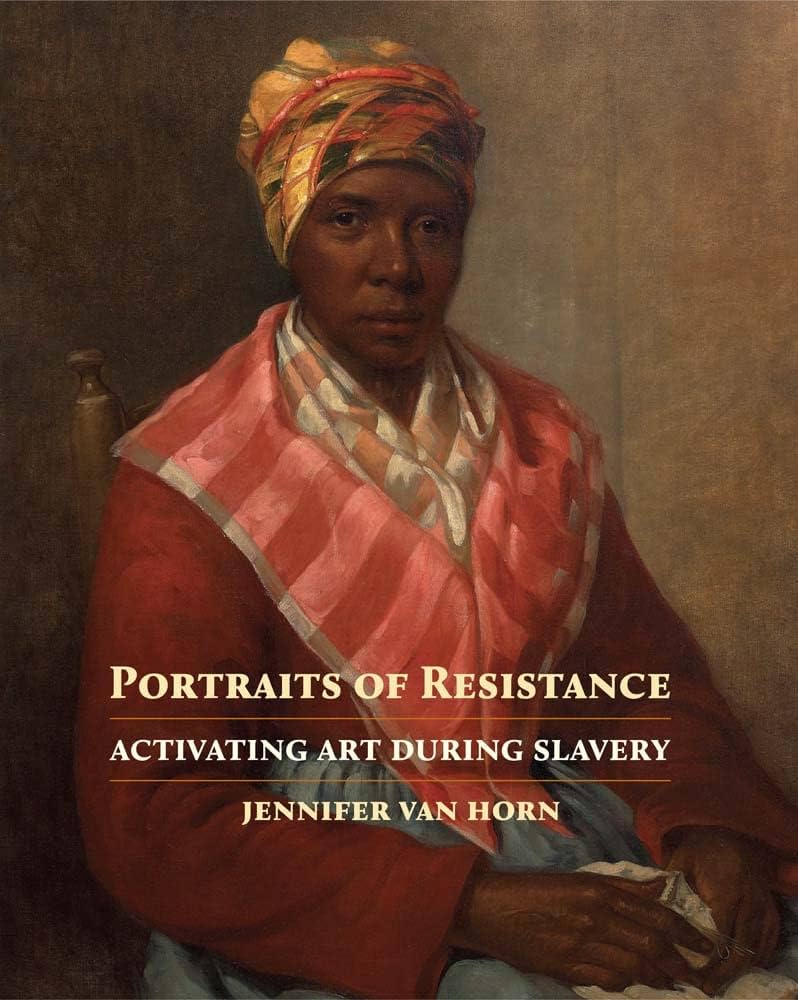 Jennifer Van Horn
Portraits of Resistance: Activating Art During Slavery (Yale University Press, 2022)
This timely and eloquent book tells a new history of American art: how enslaved people mobilized portraiture for acts of defiance. Revisiting the origins of portrait painting in the United States, Jennifer Van Horn reveals how mythologies of whiteness and of nation building erased the aesthetic production of enslaved Americans of African descent and obscured the portrait's importance as a site of resistance. Moving from the wharves of colonial Rhode Island to antebellum Louisiana plantations to South Carolina townhouses during the Civil War, the book illuminates how enslaved people's relationships with portraits also shaped the trajectory of African American art post-emancipation. Van Horn asserts that Black creativity, subjecthood, viewership, and iconoclasm constituted instances of everyday rebellion against systemic oppression. Portraits of Resistance is not only a significant intervention in the fields of American art and history but also an important contribution to the reexamination of racial constructs on which American culture was built.
---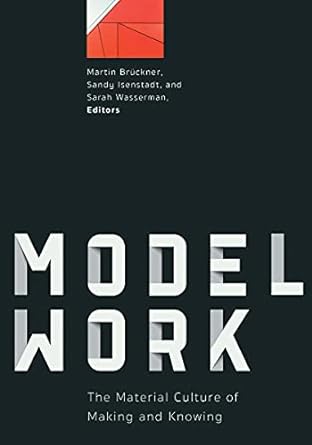 Edited by Martin Brückner, Sandy Isenstadt, and Sarah Wasserman
Modelwork: The Material Culture of Making and Knowing (University of Minnesota Press, 2021)
Whether looking inward to the intricacies of human anatomy or outward to the furthest recesses of the universe, expanding the boundaries of human inquiry depends to a surprisingly large degree on the making of models. In this wide-ranging volume, scholars from diverse fields examine the interrelationships between a model's material foundations and the otherwise invisible things it gestures toward, underscoring the pivotal role of models in understanding and shaping the world around us. Whether in the form of reproductions, interpretive processes, or constitutive tools, models may bridge the gap between the tangible and the abstract.
By focusing on the material aspects of models, including the digital ones that would seem to displace their analogue forebears, these insightful essays ground modeling as a tactile and emphatically humanistic endeavor. With contributions from scholars in the history of science and technology, visual studies, musicology, literary studies, and material culture, this book demonstrates that models serve as invaluable tools across every field of cultural development, both historically and in the present day. Modelwork is unique in calling attention to modeling's duality, a dynamic exchange between imagination and matter. This singular collection shows us how models shape our ability to ascertain the surrounding world and to find new ways to transform it.
Contributors include Hilary Bryon, Johanna Drucker, Seher Erdoğan Ford, Peter Galison, Lisa Gitelman, Reed Gochberg, Catherine Newman Howe, Christopher J. Lukasik, Martin Scherzinger, Juliet S. Sperling, Annabel Jane Wharton.
---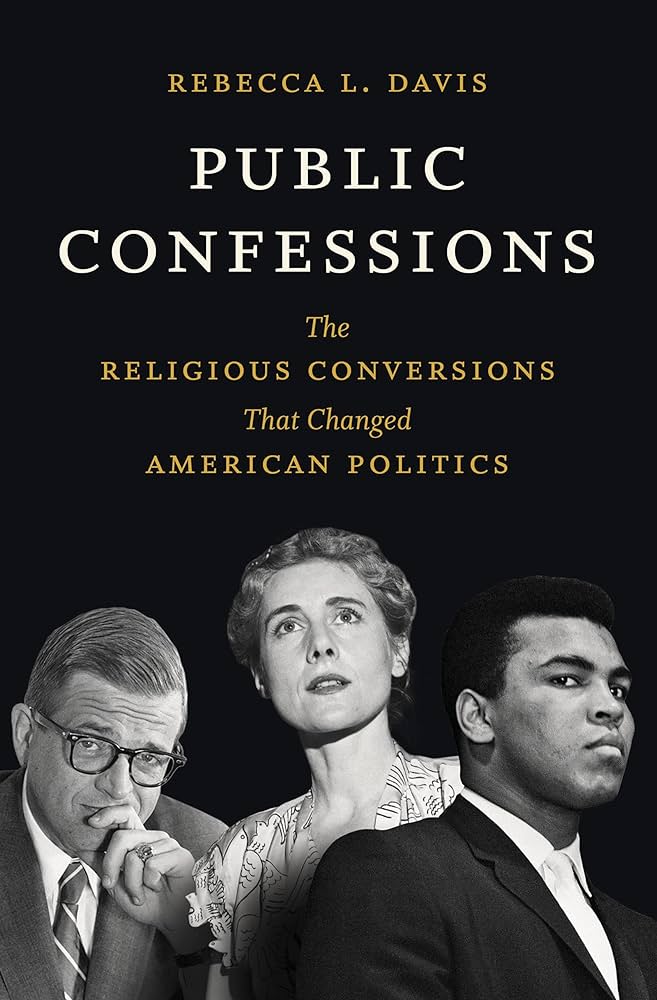 Rebecca L. Davis
Public Confessions: The Religious Conversions That Changed American Politics (University of North Carolina Press, 2021)
Personal reinvention is a core part of the human condition. Yet in the mid-twentieth century, certain private religious choices became lightning rods for public outrage and debate. Public Confessions reveals the controversial religious conversions that shaped modern America. Rebecca L. Davis explains why the new faiths of notable figures including Clare Boothe Luce, Whittaker Chambers, Sammy Davis Jr., Marilyn Monroe, Muhammad Ali, Chuck Colson, and others riveted the American public. Unconventional religious choices charted new ways of declaring an "authentic" identity amid escalating Cold War fears of brainwashing and coercion. Facing pressure to celebrate a specific vision of Americanism, these converts variously attracted and repelled members of the American public. Whether the act of changing religions was viewed as selfish, reckless, or even unpatriotic, it provoked controversies that ultimately transformed American politics. Public Confessions takes intimate history to its widest relevance, and in so doing, makes you see yourself in both the private and public stories it tells.
---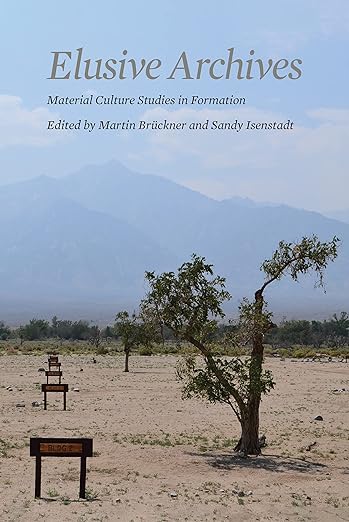 Edited by Martin Brückner and Sandy Isenstadt
Elusive Archives: Material Culture in Formation (The University of Delaware Press, 2021)
The essays that comprise Elusive Archives raise a common question: how do we study material culture when the objects of study are transient, evanescent, dispersed or subjective? Such things resist the taxonomic protocols that institutions, such as museums and archives, rely on to channel their acquisitions into meaningful collections. What holds these disparate things together here are the questions authors ask of them. Each essay creates by means of its method a provisional collection of things, an elusive archive.  Scattered matter then becomes fixed within each author's analytical framework rather than within the walls of an archive's reading room or in cases along a museum corridor. This book follows the ways in which objects may be identified, gathered, arranged, conceptualized and even displayed rather than by "discovering" artifacts in an archive and then asking how they came to be there. The authors approach material culture outside the traditional bounds of learning about the past. Their essays are varied not only in subject matter but also in narrative format and conceptual reach, making the volume accessible and easy to navigate for a quick reference or, if read straight through, build toward a new way to think about material culture.
Contributions by Julian Yates, Wendy Bellion, Julie L. McGee, Torsten Cress, Cindy Ott, Laura E. Helton, Jennifer Van Horn, Kiersten Thamm, Alexandra Ward, Alexander Lawrence Ames, Halina Adams, Rosalie Hooper, Sarah Wasserman, Spencer Wigmore, Catherine Morrissey, Michelle Everidge, Kaila T. Schedeen, Lu Ann De Cunzo, Natalie Elizabeth Wright, Oliver Scheiding, J. Ritchie Garrison, Jesse Kraft, Michael J. Emmons Jr., Jessica Conrad and Bernard L. Herman.
---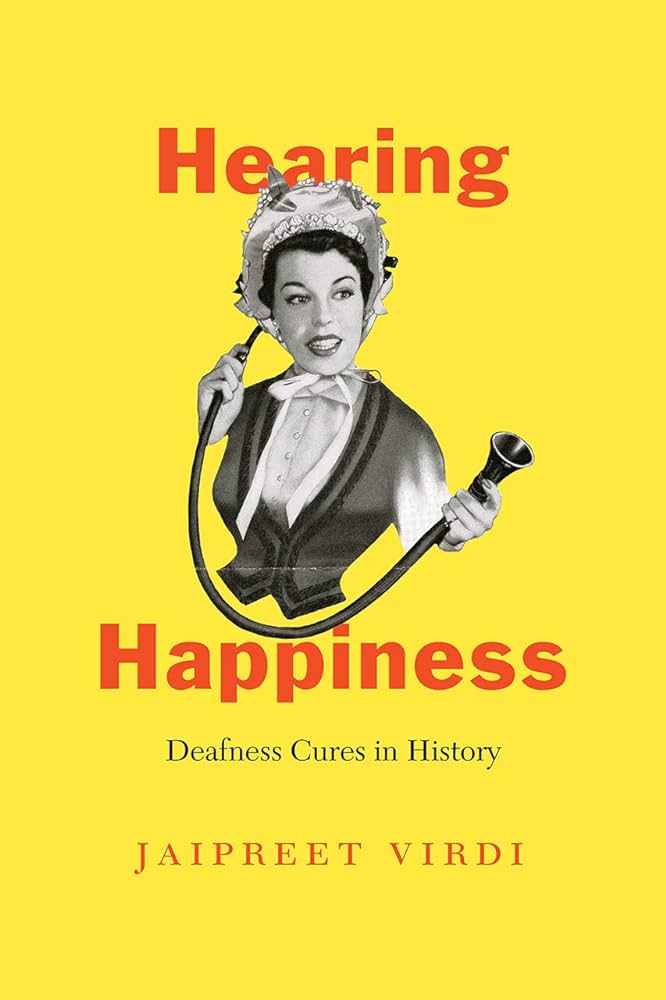 Jaipreet Virdi
Hearing Happiness: Deafness Cures in History (University of Chicago Press, 2020)
Weaving together lyrical history and personal memoir, Virdi powerfully examines society's—and her own—perception of life as a deaf person in America. At the age of four, Jaipreet Virdi's world went silent. A severe case of meningitis left her alive but deaf, suddenly treated differently by everyone. Her deafness downplayed by society and doctors, she struggled to "pass" as hearing for most of her life. Countless cures, treatments, and technologies led to dead ends. Never quite deaf enough for the Deaf community or quite hearing enough for the "normal" majority, Virdi was stuck in aural limbo for years. It wasn't until her thirties, exasperated by problems with new digital hearing aids, that she began to actively assert her deafness and reexamine society's—and her own—perception of life as a deaf person in America.
Through lyrical history and personal memoir, Hearing Happiness raises pivotal questions about deafness in American society and the endless quest for a cure. Taking us from the 1860s up to the present, Virdi combs archives and museums in order to understand the long history of curious cures: ear trumpets, violet ray apparatuses, vibrating massagers, electrotherapy machines, airplane diving, bloodletting, skull hammering, and many more. Hundreds of procedures and products have promised grand miracles but always failed to deliver a universal cure—a harmful legacy that is still present in contemporary biomedicine. Weaving Virdi's own experiences together with her exploration into the fascinating history of deafness cures, Hearing Happiness is a powerful story that America needs to hear.
---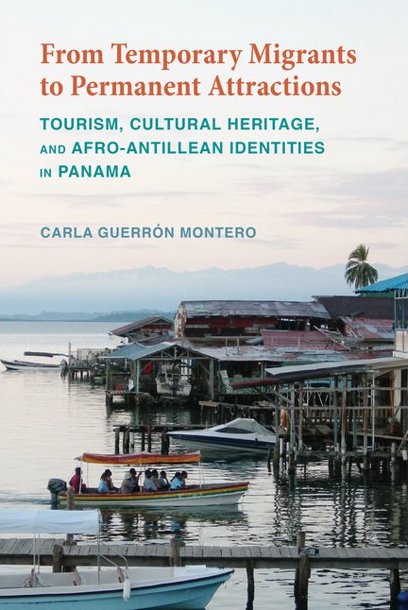 Carla Guerrón Montero
From Temporary Migrants to Permanent Attractions (The University of Alabama Press, 2020)
Based on long-term ethnographic and archival research, From Temporary Migrants to Permanent Attractions: Tourism, Cultural Heritage, and Afro-Antillean Identities in Panama considers the intersection of tourism, multiculturalism, and nation building. Carla Guerrón Montero analyzes the ways in which tourism becomes a vehicle for the development of specific kinds of institutional multiculturalism and nation-building projects in a country that prides itself on being multiethnic and racially democratic.
The narrative centers on Panamanian Afro-Antilleans who arrived in Panama in the nineteenth century from the Greater and Leeward Antilles as a labor force for infrastructural projects and settled in Panama City, Colón, and the Bocas del Toro Archipelago. The volume discusses how Afro-Antilleans, particularly in Bocas del Toro, have struggled since their arrival to become part of Panama's narrative of nationhood and traces their evolution from plantation workers for the United Fruit Company to tourism workers. Guerrón Montero notes that in the current climate of official tolerance, they have seized the moment to improve their status within Panamanian society, while also continuing to identify with their Caribbean heritage in ways that conflict with their national identity.
---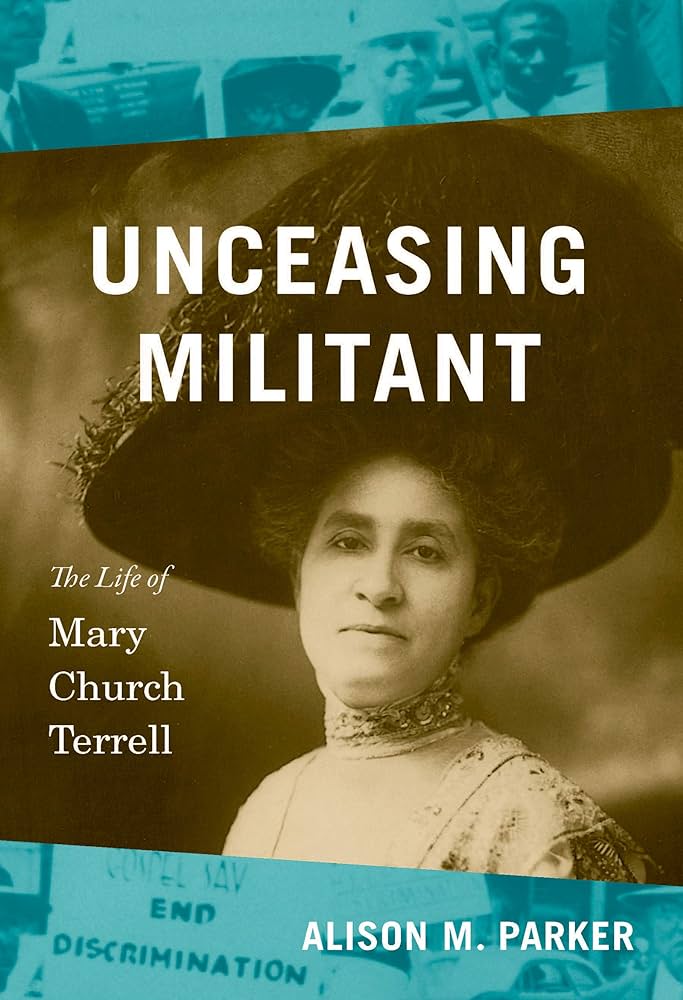 Alison M. Parker
Unceasing Militant: The Life of Mary Church Terrell (University of North Carolina Press, 2020)
Born into slavery during the Civil War, Mary Church Terrell (1863–1954) would become one of the most prominent activists of her time, with a career bridging the late nineteenth century to the civil rights movement of the 1950s. The first president of the National Association of Colored Women and a founding member of the NAACP, Terrell collaborated closely with the likes of Frederick Douglass, Ida B. Wells, and W. E. B. Du Bois. Unceasing Militant is the first full-length biography of Terrell, bringing her vibrant voice and personality to life. Though most accounts of Terrell focus almost exclusively on her public activism, Alison M. Parker also looks at the often turbulent, unexplored moments in her life to provide a more complete account of a woman dedicated to changing the culture and institutions that perpetuated inequality throughout the United States. Drawing on newly discovered letters and diaries, Parker weaves together the joys and struggles of Terrell's personal, private life with the challenges and achievements of her public, political career, producing a stunning portrait of an often-under recognized political leader.
---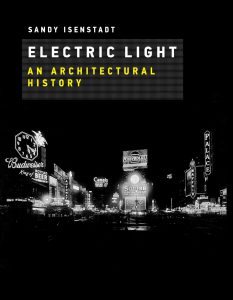 Sandy Isenstadt
Electric Light: An Architectural History (Cambridge, MA: MIT Press, 2018)
In this book, Sandy Isenstadt examines electric light as a form of architecture—as a new, uniquely modern kind of building material. Electric light was more than just a novel way of brightening a room or illuminating a streetscape; it brought with it new ways of perceiving and experiencing space itself. If modernity can be characterized by rapid, incessant change, and modernism as the creative response to such change, Isenstadt argues, then electricity—instantaneous, malleable, ubiquitous, evanescent—is modernity's medium. Isenstadt shows how the introduction of electric lighting at the end of the nineteenth century created new architectural spaces that altered and sometimes eclipsed previously existing spaces. He constructs an architectural history of these new spaces through five examples, ranging from the tangible miracle of the light switch to the immaterial and borderless gloom of the wartime blackout. He describes what it means when an ordinary person can play God by flipping a switch; when the roving cone of automobile headlights places driver and passenger at the vertex of a luminous cavity; when lighting in factories is seen to enhance productivity; when Times Square became an emblem of illuminated commercial speech; and when the absence of electric light in a blackout produced a new type of space. In this book, the first sustained examination of the spatial effects of electric lighting, Isenstadt reconceives modernism in architecture to account for the new perceptual conditions and visual habits that followed widespread electrification.
---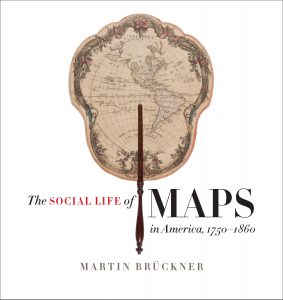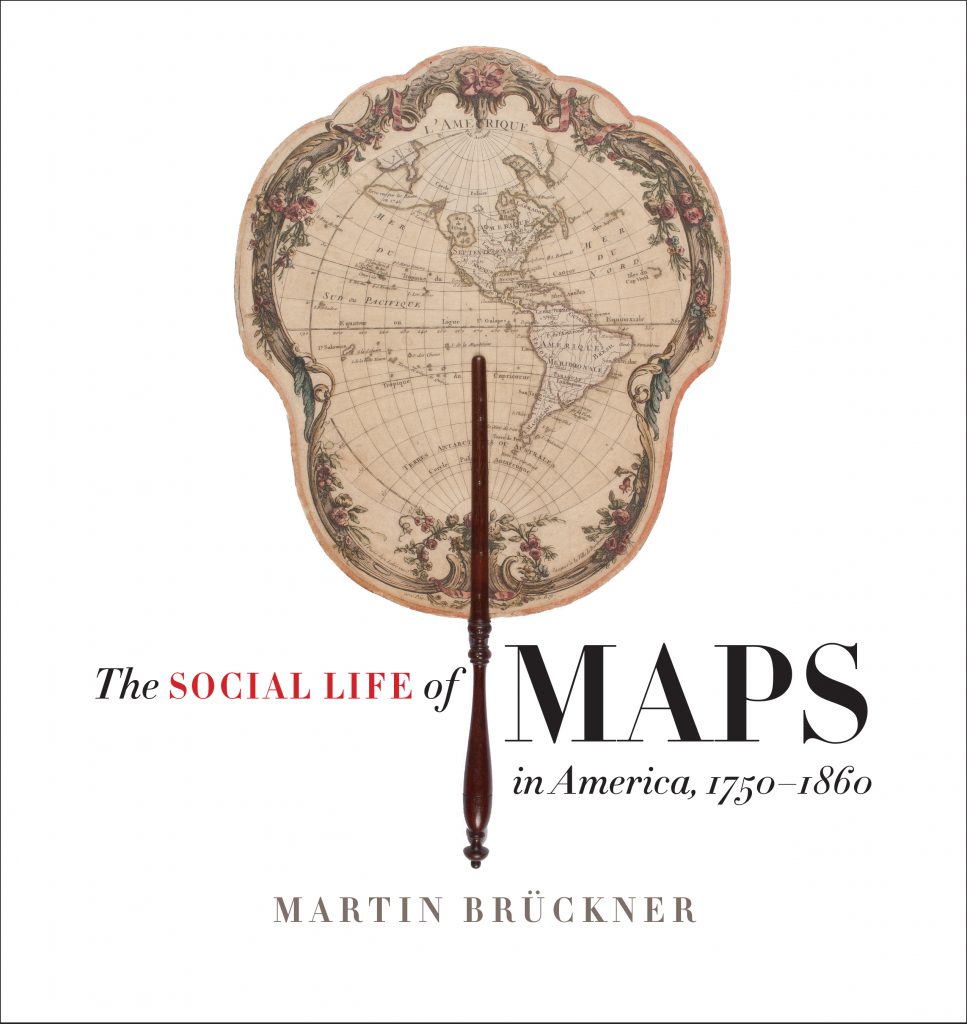 Martin Brückner
The Social Life of Maps in America, 1750-1860 (UNCP, 2017)
In the age of MapQuest and GPS, we take cartographic literacy for granted. We should not; the ability to find meaning in maps is the fruit of a long process of exposure and instruction. A "carto-coded" America–a nation in which maps are pervasive and meaningful–had to be created. The Social Life of Mapstracks American cartography's spectacular rise to its unprecedented cultural influence.Between 1750 and 1860, maps did more than communicate geographic information and political pretensions. They became affordable and intelligible to ordinary American men and women looking for their place in the world. School maps quickly entered classrooms, where they shaped reading and other cognitive exercises; giant maps drew attention in public spaces; miniature maps helped Americans chart personal experiences. In short, maps were uniquely social objects whose visual and material expressions affected commercial practices and graphic arts, theatrical performances and the communication of emotions.
This lavishly illustrated study follows popular maps from their points of creation to shops and galleries, schoolrooms and coat pockets, parlors and bookbindings. Between the decades leading up to the Revolutionary War and the Civil War, early Americans bonded with maps; Martin Brückner's comprehensive history of quotidian cartographic encounters is the first to show us how.
---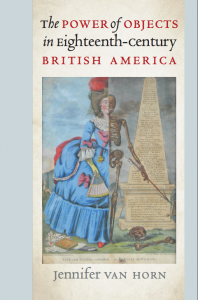 Jennifer Van Horn
The Power of Objects in Eighteenth-Century British America(UNC Press Culture, 2017)
Over the course of the eighteenth century, Anglo-Americans purchased an unprecedented number and array of goods. The Power of Objects in Eighteenth-Century British America investigates these diverse artifacts—from portraits and city views to gravestones, dressing furniture, and prosthetic devices—to explore how elite American consumers assembled objects to form a new civil society on the margins of the British Empire. In this interdisciplinary transatlantic study, artifacts emerge as key players in the formation of Anglo-American communities and eventually of American citizenship. Deftly interweaving analysis of images with furniture, architecture, clothing, and literary works, Van Horn reconstructs the networks of goods that bound together consumers in Boston, New York, Philadelphia, and Charleston.
Moving beyond emulation and the desire for social status as the primary motivators for consumption, Van Horn shows that Anglo-Americans' material choices were intimately bound up with their efforts to distance themselves from Native Americans and African Americans. She also traces women's contested place in forging provincial culture. As encountered through a woman's application of makeup at her dressing table or an amputee's donning of a wooden leg after the Revolutionary War, material artifacts were far from passive markers of rank or political identification. They made Anglo-American society.
---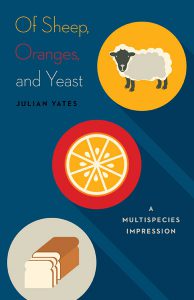 Julian Yates
Of Sheep, Oranges, and Yeast: A Multispecies Impression  (Minnesota, 2017)
Bringing together conversations in animal studies, plant studies, ecotheory, and biopolitics, Julian Yates crafts scripts for literary and historical study that embrace the fact that we come into being through our relations to other animal, plant, fungal, microbial, viral, mineral, and chemical actors. What emerges is a methodology that fundamentally alters what it means to read in the twenty-first century.
---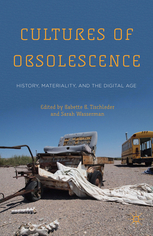 Babette Tischleder and Sarah Wasserman, eds.
Cultures of Obsolescence: History, Materiality and the Digital Age (Palgrave MacMillan, 2015)
Obsolescence is fundamental to the experience of modernity, not simply one dimension of an economic system. The contributors to this book investigate obsolescence as a historical phenomenon, an aesthetic practice, and an affective mode.
---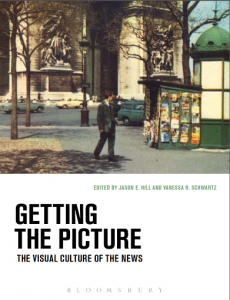 Jason E. Hill and Vanessa R. Schwartz, eds.
Getting the Picture: The Visual Culture of the News (London: Bloomsbury, 2015)
Powerful and often controversial, news pictures promise to make the world at once immediate and knowable. Yet while many great writers and thinkers have evaluated photographs of atrocity and crisis, few have sought to set these images in a broader context by defining the rich and diverse history of news pictures in their many forms.
For the first time, this volume defines what counts as a news picture, how pictures are selected and distributed, where they are seen and how we critique and value them. Presenting the best new thinking on this fascinating topic, this book considers the news picture over time, from the dawn of the illustrated press in the nineteenth century, through photojournalism's heyday and the rise of broadcast news and newsreels in the twentieth century and into today's digital platforms. It examines the many kinds of images: sport, fashion, society, celebrity, war, catastrophe and exoticism; and many mediums, including photography, painting, wood engraving, film and video. Packed with the best research and full colour-illustrations throughout, this book will appeal to students and readers interested in how news and history are key sources of our rich visual culture.
---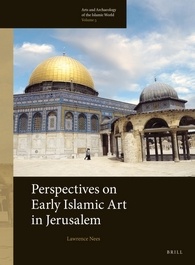 Lawrence Nees
Perspectives on Early Islamic Art in Jerusalem (Netherlands: Leiden, 2015)
Through its material remains, Perspectives on Early Islamic Art in Jerusalem analyzes several overlooked aspects of the earliest decades of Islamic presence in Jerusalem, during the seventh century CE. Focusing on the Haram al-Sharif, also known as the Temple Mount, Lawrence Nees provides the first sustained study of the Dome of the Chain, a remarkable eleven-sided building standing beside the slightly later Dome of the Rock, and the first study of the meaning of the columns and column capitals with figures of eagles in the Dome of the Rock. He also provides a new interpretation of the earliest mosque in Jerusalem, the Haram as a whole, with the sacred Rock at its center.
---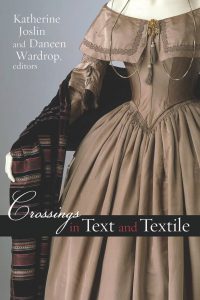 Margaret D. Stetz
"Dressing the Aesthetic Woman." Crossings in Text and Textile. Daneen Wardrop and Katherine Joslin, eds. (Durham, NH: New Hampshire UP, 2015) 149–66.
Crossings in Text and Textile explores the diverse range of transatlantic representations of clothing in nineteenth- and early twentieth-century literature. This collection of essays demonstrates that fashion history and literary history, when examined together, prompt fresh understandings of the complexities of race, class, and sexual identity. By bridging material culture and discourse, Crossings establishes the significance of fashion—while neglecting none of its aesthetic appeal—to offer historicized readings on a variety of topics, from Jane Austen's nuanced display of social interactions through the economics of muslin to the 1871 Park and Boulton cross-dressing trial and Jessie Fauset's selection of apparel to express racial power. The geographic span of textiles from different economic areas around the globe includes Asia, Africa, Europe, and North America. By making use of transatlantic texts to consider the political and social positioning of both workers and consumers, the collection further expands upon the emerging cross-disciplinary study of reading dress.
---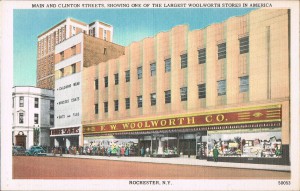 Ed. Deborah Andrews, former Director of the Center for Material Culture Studies
Shopping: Material Culture Perspectives (UD Press, 2014)
The themes explored in this volume are based on the Fall, 2011, iteration of the Material Culture Studies course MCST299, "Research in Material Culture Studies: The Architecture of Shopping." This class was open to the public and all lectures were recorded. These lectures, which are often a version of the chapters found in "Shopping: Material Culture Perspectives" can be accessed here.The essays in this volume—authored by historians with varied specialties, an anthropologist, an environmental journalist, a geographer and urban planner, and practicing artists—demonstrate how a material culture perspective on shopping yields insights into multiple aspects of American culture.
---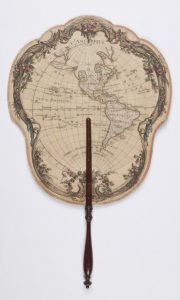 Martin Brückner
Common Destinations: Maps in the American Experience is a path-breaking exhibition that charts objects and imagery related to America's historical fascination with maps. Created by Martin Brückner, Professor in English and American Literature at the University of Delaware, assisted by Winterthur's Catharine Dann Roeber, Alana Staiti and Heather Hansen, Common Destinations was displayed in the Winterthur Galleries (April 20, 2013 to January 5, 2014) and is permanently available online. It features over 100 Winterthur library and museum collections objects and images as well as loans from other collections.
Throughout history, maps have defined the American experience. Since the early 1500s they introduced the American continent to European explorers and colonists. After the American Revolution, they shaped the image of the new nation; and during the nineteenth century, maps documented westward expansion, civil war, and the closing of the frontier. But while today we are used to seeing historical maps as a popular strategy for telling the American story to history buffs and movie fans alike, what we are not used to seeing is how the very maps that declared independence or measured the progress of the nation were used day-in and day-out by people who went about their business in spite of social change and political crisis.