Below you'll find a list of the latest graduate course offerings at UD that engage significantly with material culture. Don't forget to also check out the amazing grant opportunities sponsored by CMCS.
---
SPRING 2021 COURSES
MCST / ENGL / HIST / ARTH / EAMC 610 — Introduction to Theories of Material Culture Studies
Professor Yates and Professor Winn

This seminar introduces graduate students to the theories, practices and methodologies of "material culture studies." As the investigation of anything that is made or modified by humans, material culture studies assumes that every object can reveal complex stories about past and present people and societies. We therefore study "things" broadly defined, such as household goods, machinery, built structures, art, landscapes, clothing, food and living bodies, as well as processes of production and consumption across space and time. These objects may be actual artifacts or representations—linguistic and visual, as well as material. At the same time, we examine things as material expressions of values, social relationships, political ideologies, economic conditions and cultural change over time. This seminar explores the fundamental principles and theories that have come to inform such investigations; they include (but are not limited to): material concepts; theories of production and consumption; modes of object analysis; methodologies and their application; objects in word and image; gendered objects; technology and manufactured things; lived and built environments.
ARTH Requirements: America, 1900-Present

---
SPRING 2021 COURSES
MCST / ENGL / HIST / ARTH / EAMC 610 — Introduction to Theories of Material Culture
Professors Brückner & Van Horn
Introduces graduate students to the theories and practices of material culture studies. Explores the principles and theories that inform our investigation; they include (but are not limited to) material concepts; social life of things; modes of object analysis; methodologies and their application; objects as word and image; gendered objects; technology and manufactured things; lived and built environments.
AFRA 642 — The Black Portrait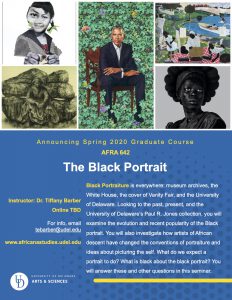 Professor Barber
Black portraiture is everywhere: museum archives, the White House, the cover of Vanity Fair, and the University of Delaware. Looking to the past, present, and the University of Delaware s Paul R. Jones collection, you will examine the evolution and recent popularity of the black portrait. You will also investigate how artists of African descent have changed the conventions of portraiture and ideas about picturing the self. What do we expect a portrait to do? What is black about the black portrait? You will answer these and other questions in this seminar.
AFRA 647 / MSST 647 — Curating Hidden Collections & the Black Archive
Professor McGee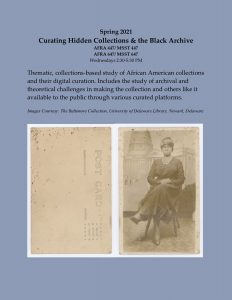 Thematic, collections-based study of African American collections and their digital
curation. Includes the study of archival and theoretical challenges in making the collection and others like it available to the public through various curated platforms.
https://research.udel.edu/2019/09/21/the-baltimore-collection/
https://sites.udel.edu/baltimorecollection/
ARTH 627 — Documentary, Photography, and Truth
Professor Hill
We will consider the past and present of documentary photography as its theorists, makers, and users (artists, journalists, activists, bureaucrats, curators, scholars, etc.) have fashioned, negotiated, refused, and revised the terms of its definitionally unstable attachment to truth. Frequent emphasis on material dimensions of photographic images and practices.
EAMC 615 — Exhibition and Interpretation of Material Culture
Professor Dann Roeber
Practicum at Winterthur in exhibiting & interpreting American material culture in a global context, centering on objects selected from Winterthur collections. Topics include: exhibition preparation, installation, programming, fundraising, marketing.
MSST 601 — Curatorship and Collections Management
Professor Cohen
Introduces students to the best practices of collections management: the storage and organization of both digital and physical collections. Through readings and in-class workshops, students will learn to remediate threats to collections from handling temperature, humidity, light, and infestation. In addition, the semester-long project will involve building and managing collections management databases and digital catalogs that have become central repositories of curatorial knowledge and public access to art and artifacts.
UAPP 627 — World Heritage Sites
Professor Reedy
Goals and political context of UNESCO's World Heritage program, UNESCO activities related to that program, process of nomination of new sites for the World Heritage List, and cultural and preservation issues presented by world heritage sites in a variety of regions and countries. This course can be applied to the graduate Certificate in Historic Preservation.
 UAPP 630 — Methods in Historic Preservation
Professor Morrissey
Introduces students to the critical skills and methodologies employed in the field of historic preservation. Organization is based on the steps used in preservation planning, including survey and identification of historic resources, evaluation of significance, development of historic context, and creation of preservation treatment alternatives.
UAPP 636 — Preservation in Practice
Professors Reedy, Morrissey, & Emmons
Seminar on Research Topics in Historic Preservation that varies each time. This semester the focus will be on a rotating series of historic preservation professionals from a wide scope of careers discussing how they use historic preservation tools and research approaches in carrying out their work, with an emphasis on the range of career paths available in historic preservation. This course can be applied to the graduate Certificate in Historic Preservation.
---
FALL 2020 COURSES
ENGL / HIST / MSST / MCST 647 — Archives Theory: From Manuscripts to Metaphors
Professor Helton
Colonial archives, curio cabinets, slave ledgers, ephemera: once understood primarily as sources, archival objects are now subjects of inquiry in their own right. In this course we will trace the "archival turn" in the humanities while immersing ourselves in collections at a range of cultural institutions. Through readings in theory and practice, we will consider how interpretations of the archive in one field reframe archival questions in another. With funding from the Interdisciplinary Humanities Research Center, we will engage with visiting speakers and make site visits to regional collections—from pop-up museums to records offices to photography morgues. Along the way, we will ask: How do archives inflect our inquiries and imaginaries? What gets saved, what gets lost, and why? What are the ethics and constraints of archival research? How can we work both along and against the archival grain? This cross-disciplinary seminar is designed for graduate students from across the humanities engaged in traditional research projects as well as those interested in public humanities and museum work. Each student will design an individual project tailored to their scholarly interests and career goals, as well as participate in a collaborative field survey focused on African American collections in the region. 
ANTH / MSST 663 — Historical Archaeology and the Public
Professor DeCunzo
This course examines historical archaeology in the public arenas of cultural resource management, museum and historic site interpretation, and community history.  The seminar addresses issues of archaeological philosophy, practice, and pedagogy through readings, discussion, and projects in public archaeology.  It prepares you to engage the academic-public discourse relating to the construction, dissemination, and contesting of archaeological knowledge.  To accomplish this, we address the range of issues facing public archaeology, from the values and challenges of critical scholarship to the logistics of using historical archaeology for public advocacy.
UAPP 629 — Historic Preservation Theory and Practice
Professors Morrissey & Reedy 
Analysis of the theory underlying historic preservation in the United States and globally, including its history and evolution over time. Examines the impact of preservation laws and public policies, and the strategies and regulations for identifying significant structures, sites, and cultural heritage worthy of preservation.
---
---
PREVIOUSLY OFFERED COURSES
MCST / ENGL / HIST / ARTH / EAMC 610 — Introduction to Theories of Material Culture Studies (Spring 2020)
Professors Wasserman & Anishanslin
EAMC 609 — Pre-Industrial Craftsmanship (Spring 2020)
Professor Mohun
EAMC 667-012 — Introduction to Public & Digital Humanities (Spring 2020)
Professor Guiler
EAMC 667-015 — Exhibition and Interpretation of Material Culture (Spring 2020)
Professor Roeber
UAPP 627-194 — World Heritage Sites (Spring 2020)
Professor Reedy
UAPP 630-010 — Methods in Historic Preservation (Spring 2020)
Professor Morrissey
Honors E110 — Prized Possessions: Collections and Identity (Spring 2019)
Professor Wasserman
ENGL 874 —  The Power of Objects in Early American Literature, 1700-1900  (Spring 2019)
Professor Brückner
GEOG 630 — Food Geographies and Food Justice (Spring 2019)
Professor Naylor
ARTH 667 — Diplomatic Things: Art & Architecture in Global Contexts (Fall 2018)
Professors Okoye & Horton
ENGL / HIST / ARTH 667 — The Black Atlantic and the Archive (Fall 2018)
Professor Helton
ENGL 684 — Introduction to Literary Theory (Fall 2018)
Professor Wasserman
ARTH 617 — Invention in the Age of Vermeer
Professor Chapman
ARTH 635-010 — Material and Visual Culture of Slavery
Professor Van Horn
ARTH 667 — Eurasia and the Problems of Style
Professor Rujivacharakul
ARTH 667 — The Orient and its Representation
Professor Rujivacharakul
EAMC 601 — Introduction to Decorative Arts (Summer Institute)
Professor Guiler
EAMC 602 — Material Life in America
Professor Roeber
EAMC 606 — Cities on a Hill: Material Culture in America's Communal Utopias
Professor Guiler
EAMC 667-011 — The City in Material Culture
Professor Roeber 
ENGL 639 — Material Losses: Psychoanalysis and Material Culture in the Contemporary American Novel
Professor Wasserman
HIST 605 — Historiography of Material Culture
Professor Grier
MSST 610 — Exhibitions
Professor Ott
MSST / BAMS 667 — Curating Hidden Collections & the Black Archive
Professor McGee
UAPP 631 — Documentation of Historic Structures 
Professor Morrissey