The CMCS Advisory Committee offers guidance to the Directors on strategic planning and Center initiatives, and assists in the vetting process for CMCS grants. The members of the current Advisory Committee are: Jocelyn Alcántara-García, Kenneth Cohen, Lu Ann De Cunzo, and Curtis Small. 
---
Jocelyn Alcántara-García – Associate Professor, Department of Art Conservation (Main),  Department of Chemistry and Biochemistry (Joint)
Dr. Jocelyn Alcántara-García joined the WUDPAC program in the fall of 2014 after working for about five years in interdisciplinary projects (predominantly in Mexico, where she was born). All projects were conducted in close collaboration with conservators and scientists, and included the examination of iron gall inks, archaeological organic materials and seashells, research on degradation of certain conservation and restoration materials, investigation for the development of novel methodologies for paper stabilization as well as identification of binding media in pre-Columbian wall paintings and non-destructive examination of archival material.
She studied Conservation for two years at the National School of Conservation, Restoration and Museography (ENCRyM) and received a B. S. in Chemistry from the National Autonomous University of Mexico (UNAM) in 2005. In 2009 she received her Ph. D. in Inorganic Chemistry from the same institution, nominated as a candidate for the Alfonso Caso Medal. Dr. Alcántara-García has a joint appointment with the UD Chemistry and Biochemistry Department (https://www.chem.udel.edu/people/joint-faculty).
Kenneth Cohen – Associate Professor, Department of History; Director of Museum Studies
Dr. Kenneth Cohen is a public historian and scholar whose work ranges from books and articles about the intersection of popular and political culture to museum exhibitions and programs about oystering, the ivory trade, and the legacies of the Mayflower landing. The theme that ties it all together is an emphasis on how the past shapes the present. As Director of Museum Studies and Public History, he helps students learn the professional skills required to apply their growing expertise to non-scholarly audiences, for whom a personal or contemporary connection often heightens understanding and impact. He came to this position after having spent more than twenty years working for institutions big and small, from the Smithsonian and the National Park Service to historic houses and local museums. He also graduated from the Winterthur Program in American Material Culture and completed his dissertation at UD in 2008.
Lu Ann De Cunzo – Professor, Department of Anthropology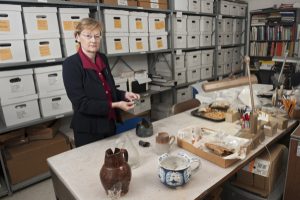 Lu Ann De Cunzo is a professor of Anthropology at the University of Delaware. She earned a Ph.D. in American Civilization from the University of Pennsylvania. In her research and teaching she specializes in historical archaeology and anthropology with a focus on the 17th to early 20th century culture history of the Middle Atlantic region, and the heritage legacy of this era. She has directed public archaeological projects in Pennsylvania, Delaware and southern New Jersey in collaboration with historical organizations, public agencies, community groups, and students. Her research interests include urbanization and institutions, the cultures of agriculture, colonialism, and the rise of consumerism in the modern world.
Curtis Small, Ph.D. – Senior Assistant Librarian and Coordinator, Public Services, Special Collections, Morris Library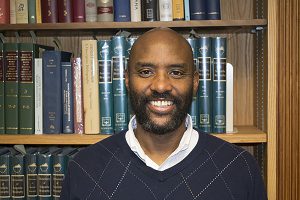 Curtis Small is a librarian and coordinator of public services for the Special Collections department at University of Delaware Library. He regularly teaches and lectures based on books and manuscripts from the collection. In 2017, he curated the exhibition Issues and Debates in African American Literature at UD Library. In 2019, Curtis was co-curator of  Drawing Connections: Illustration and the Written Word , an exhibition at University of Delaware Museums. In that same year, he was a co-organizer of the Black Bibliographia conference, sponsored by the Center for Material Culture Studies at UD. Curtis has interests in literature, book history and African American print culture in particular.  He also works to increase racial diversity and equity among professionals in the fields of archives and special collections. He holds a PhD in French from New York University and an MLIS degree from the School of Library and Information Science at Simmons University.