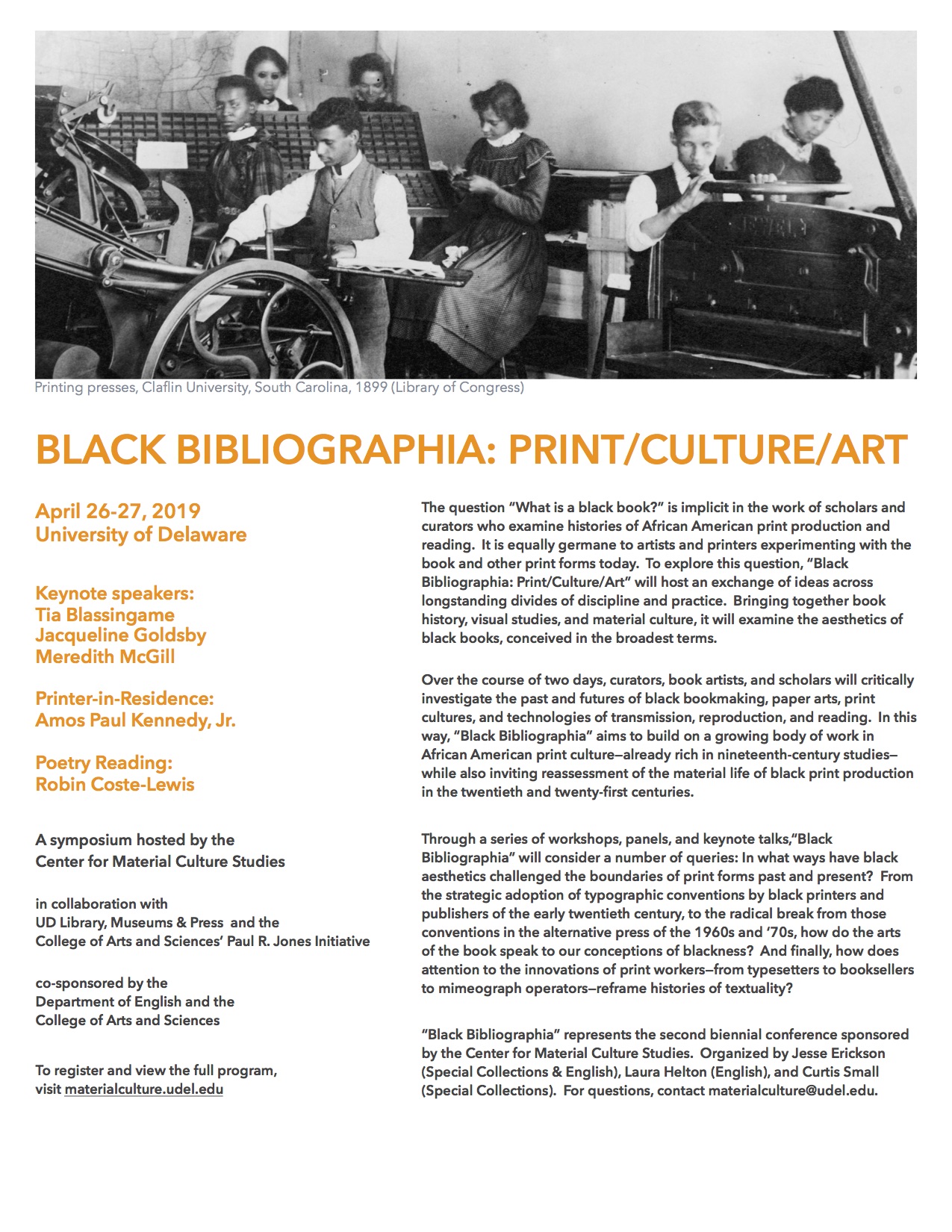 Black Bibliographia: Print/Culture/Art
University of Delaware
April 26-27, 2019
To attend the conference, register here.
A symposium hosted by the
Center for Material Culture Studies
in collaboration with
UD Library, Museums & Press and the
College of Arts & Sciences' Paul R. Jones Initiative 
Co-sponsored by the English Department and College of Arts & Sciences
Keynote Speakers:
Jacqueline Goldsby & Meredith McGill
Tia Blassingame
Printer-in-Residence:
Amos Paul Kennedy, Jr.
Poetry Reading:
Robin Coste-Lewis
The second biennial Center for Material Culture Studies conference begins Friday, April 26, with a set of pre-conference workshops.  In UD's Morris Library, scholars and librarians will lead two workshops highlighting current projects in African diasporic bibliography.  Concurrently, at UD's Raven Press in the Studio Arts building, Amos Kennedy, Jr. will lead a hands-on printmaking session for interested conference attendees and students.
The conference will officially open Friday afternoon in Morris Library's Class of 1941 Lecture Room with a welcome by Trevor A. Dawes, May Morris University Librarian and Vice Provost for Libraries and Museums, followed by three scholarly panels on the topics of material culture, circulation, and publishing.  Jacqueline Goldsby and Meredith McGill, co-directors of the Black Bibliography Project, will give the first keynote presentation of the conference, followed by a reception in the Morris Library atrium.  During the reception, Special Collections will exhibit texts and objects representing UD's holdings in African American print culture.
The conference continues on Saturday in Memorial Hall, opening with a breakfast workshop on building ephemera collections.  Book artist Tia Blassingame will deliver the second keynote presentation, followed by a panel on theorizing the black book.  A lunch in the Memorial Hall Dome will be accompanied by a screening of excerpts from Proceed and Be Bold!, a documentary chronicling the life and work of Amos Kennedy, Jr.  Afternoon panel sessions will explore print laborers and book history.  The conference wraps up with a special reading by poet and National Book Award recipient Robin Coste-Lewis, as well as a reception hosted by the Center for Material Culture Studies.
Program
Friday, April 26
Pre-Conference Workshops
9:00-10:15
Amos Kennedy, Jr./Raven Press Workshop I
Explore connections that tie the materiality of letterpress printing to Black identities and social justice with Amos Paul Kennedy, Jr., the self-proclaimed "humble Negro printer." Kennedy's work as a printer has been instrumental in the struggle to achieve greater Black Diasporic representation in contemporary letterpress printing, particularly within the context of the exclusionary history of the American fine press movement. Working in the University of Delaware's Raven Press, participants will have the chance to get hands on experience with the press and learn some of Kennedy's improvisational and multi-layered letterpress techniques.  Note: Space is limited.
Bibliography Workshop I
Panelists will discuss their current projects to create digital bibliographies of African American and African diasporic literature and print culture.
Amy Earhart & Rebecca Hankins (Texas A&M University), "Bibliography as Activism: Recovering the Afro Scholar Newsletter"
Elizabeth Watts Pope (American Antiquarian Society), "Black Self Publishing"
Johnnnieque B. Love (University of Maryland), "Information Professionals of ASALH"
datejie c. green (solidarity conscious), "By, For, and About: A Crowd-sourced Inventory of 21st-century Black News Publishers"
10:30-11:45
Amos Kennedy, Jr./Raven Press Workshop II
Printmaker Amos Kennedy, Jr. will repeat his workshop for a second group of participants.
Bibliography Workshop II
Maryemma Graham, Founder of the Project on the History of Black Writing at the University of Kansas, will introduce the Black Book Interactive Project, followed by presentations from current and former project staff.
Arnab Chakraborty (University of Kansas), "Reassessing the Anti-Pastoral Genre as a Black Book"
Alysha Griffin (University of Kansas), "The Black Book as Performative Materiality"
Shelia Bonner (University of Kansas), "Claudia Rankine's Citizen as Intra/Intertextual Innovation"
Friday, April 26
Panel sessions and Keynote
Morris Library, Class of 1941 Lecture Room
1:00—Welcome
Trevor A. Dawes, May Morris University Librarian and Vice Provost for Libraries and Museums
1:15-2:30—Material Culture
Nazera Sadiq Wright (University of Kentucky), "Black Girls and their Nineteenth-Century Autograph Albums"
Alex Black (Hobart & William Smith College), "Providence, Provenance and The Underground Railroad"
Marianetta Porter (University of Michigan), "Stories Told in Sunday School"
Myron M. Beasley (Bates College), "Vibration Cooking: Material Culture, Performance, and the Cookbook"
2:30-3:15—Circulation
Derrick R. Spires (University of Illinois),  "William Still and African American Literary History"
Kate McIntyre (Columbia University), "Fugitive Circulations: George Moses Horton, the Politics of Reprinting, and the Spatial Logics of Freedom's Journal"
Kristin Moriah (Queen's University), "The Black Swan in Print: Working with and against the Slave Narrative in Elizabeth Taylor Greenfield's Biography"
Brooks E. Hefner (James Madison University), "Black Pulp Beyond the Book: Radical Forms in African American Newspaper Fiction"
3:15-3:30—Break
3:30-4:45—Print Culture and Publishing
Korey Garibaldi (University of Notre Dame), "The Strange Career of the Harlem Renaissance"
Emily Kader (University of North Carolina), "Recovery and Loss: Materiality, Aesthetics, and Paratext in the Editions of Zora Neale Hurston's Their Eyes Were Watching God"
Autumn Womack (Princeton University), "Reprinting the Negro Past, Re-Ordering Black Social Life"
Heidi Morse (University of Michigan), "Before Broadway: For Colored Girls in Radical Women's Print History"
5:00-6:00—Keynote Presentation
Jacqueline Goldsby, Professor of English and African American Studies, Yale University
&
Meredith L. McGill, Associate Professor of English, Rutgers University
6:00-7:00—Reception
Saturday, April 27
Panel sessions and Keynote
Memorial Hall
8:30-9:30—Breakfast workshop
"The Future is Ephemeral: The Importance of Connecting Librarians and Cultural Heritage Workers to Build Ephemeral Collections"
Presented by Sarah C. Carter (Indiana University), Courtney Becks (University of Illinois), and Vaughn Hennen (Dakota State University)
9:30-9:45—Coffee
9:45-10:00—Welcome
10:00-11:00—Keynote Presentation
Tia Blassingame, Director, Scripps College Press and Owner, Primrose Press
11:00-11:15—Break
11:15-12:30—Theorizing the Black Book
Melanie Chambliss (Columbia College Chicago), "What Makes a Book Black?: The George Gershwin Memorial Collection, the James Weldon Johnson Collection, and the Negotiation of Race in the Archive"
Kita Douglas (Duke University), "'to know that you are alive': Archiving the Black Book in the Martin Wong Collection"
Kinohi Nishikawa (Princeton University), "The Part for the Whole: Glenn Ligon's A People on the Cover"
Charlie Gleek (Florida Atlantic University), "Centuries of Black Artists' Books"
12:30-2:00—Lunch and screening of Proceed and Be Bold! (documentary about letterpress printer Amos Kennedy)
2:00-3:15—Print Laborers
Charmaine A. Nelson (McGill University), "'RUN-AWAY, FROM the Printing-Office': Slave Labour, Slave Literacy, and Eighteenth-Century Print Culture in Quebec"
Phillip Troutman (George Washington University), "Oeuvre or Miscellany?: The Engraving Work of Patrick Henry Reason (1816-1898)"
Jordan Wingate (University of California, Los Angeles), "The 'negro press-hand' of the Charleston Courier"
Marina Bilbija (Wesleyan University), "Wake Work, Black Annotation and Black Redaction as Material Editorial Practices"
3:15-4:30—Literary Lineages
Tara A. Bynum (Hampshire College), "Looking for Cesar; Or Cesar Lyndon Has a Pig Roast"
Sabrina Evans (Penn State University), "Passing and Editing: How The Bondwoman's Narrative Resists Genre Constrictions"
Katy L. Chiles (University of Tennessee), "What is a Black Author in Antebellum America?"
Bryan Sinche (University of Hartford), "Levin Tilmon and the First Black Bibliography"
4:30—Reading by poet Robin Coste-Lewis
5:00-6:00—Closing reception
To tweet about the conference, please use @UDMatCult (The Center for Material Culture Studies at the University of Delaware) and #BlackBib.