Below you'll find recent publications from faculty affiliated with the Center. Publications are listed in chronological order, beginning with the most recent. Click the title of the book to view the publisher's page.
---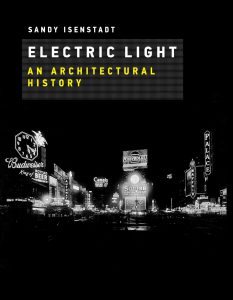 Sandy Isenstadt
Electric Light: An Architectural History (Cambridge, MA: MIT Press, 2018)
In this book, Sandy Isenstadt examines electric light as a form of architecture—as a new, uniquely modern kind of building material. Electric light was more than just a novel way of brightening a room or illuminating a streetscape; it brought with it new ways of perceiving and experiencing space itself. If modernity can be characterized by rapid, incessant change, and modernism as the creative response to such change, Isenstadt argues, then electricity—instantaneous, malleable, ubiquitous, evanescent—is modernity's medium. Isenstadt shows how the introduction of electric lighting at the end of the nineteenth century created new architectural spaces that altered and sometimes eclipsed previously existing spaces. He constructs an architectural history of these new spaces through five examples, ranging from the tangible miracle of the light switch to the immaterial and borderless gloom of the wartime blackout. He describes what it means when an ordinary person can play God by flipping a switch; when the roving cone of automobile headlights places driver and passenger at the vertex of a luminous cavity; when lighting in factories is seen to enhance productivity; when Times Square became an emblem of illuminated commercial speech; and when the absence of electric light in a blackout produced a new type of space. In this book, the first sustained examination of the spatial effects of electric lighting, Isenstadt reconceives modernism in architecture to account for the new perceptual conditions and visual habits that followed widespread electrification.
---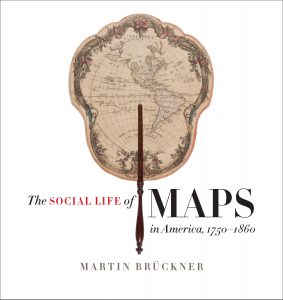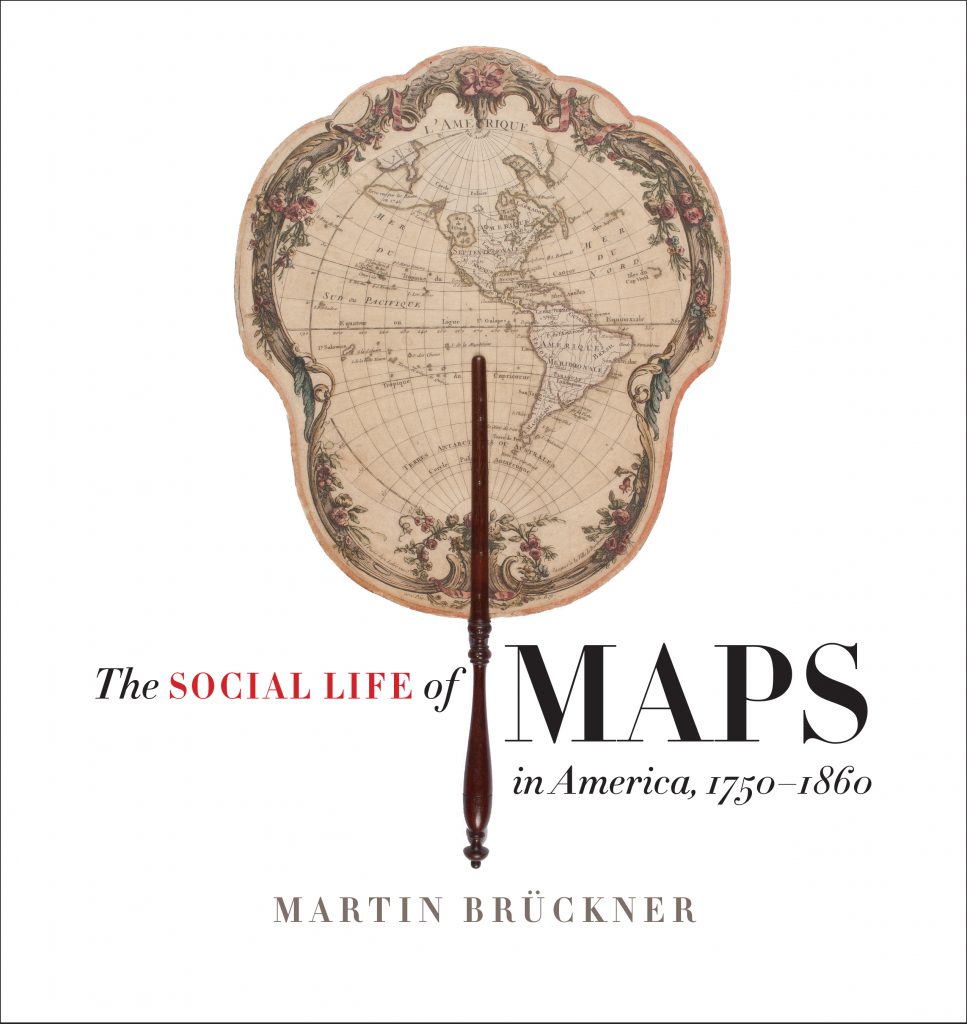 Martin Brückner
The Social Life of Maps in America, 1750-1860 (UNCP, 2017)
In the age of MapQuest and GPS, we take cartographic literacy for granted. We should not; the ability to find meaning in maps is the fruit of a long process of exposure and instruction. A "carto-coded" America–a nation in which maps are pervasive and meaningful–had to be created. The Social Life of Mapstracks American cartography's spectacular rise to its unprecedented cultural influence.Between 1750 and 1860, maps did more than communicate geographic information and political pretensions. They became affordable and intelligible to ordinary American men and women looking for their place in the world. School maps quickly entered classrooms, where they shaped reading and other cognitive exercises; giant maps drew attention in public spaces; miniature maps helped Americans chart personal experiences. In short, maps were uniquely social objects whose visual and material expressions affected commercial practices and graphic arts, theatrical performances and the communication of emotions.
This lavishly illustrated study follows popular maps from their points of creation to shops and galleries, schoolrooms and coat pockets, parlors and bookbindings. Between the decades leading up to the Revolutionary War and the Civil War, early Americans bonded with maps; Martin Brückner's comprehensive history of quotidian cartographic encounters is the first to show us how
---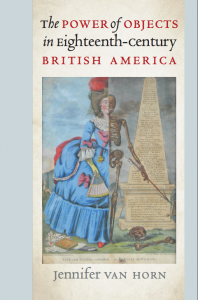 Jennifer Van Horn
The Power of Objects in Eighteenth-Century British America(UNC Press Culture, 2017)
Over the course of the eighteenth century, Anglo-Americans purchased an unprecedented number and array of goods. The Power of Objects in Eighteenth-Century British America investigates these diverse artifacts—from portraits and city views to gravestones, dressing furniture, and prosthetic devices—to explore how elite American consumers assembled objects to form a new civil society on the margins of the British Empire. In this interdisciplinary transatlantic study, artifacts emerge as key players in the formation of Anglo-American communities and eventually of American citizenship. Deftly interweaving analysis of images with furniture, architecture, clothing, and literary works, Van Horn reconstructs the networks of goods that bound together consumers in Boston, New York, Philadelphia, and Charleston.
Moving beyond emulation and the desire for social status as the primary motivators for consumption, Van Horn shows that Anglo-Americans' material choices were intimately bound up with their efforts to distance themselves from Native Americans and African Americans. She also traces women's contested place in forging provincial culture. As encountered through a woman's application of makeup at her dressing table or an amputee's donning of a wooden leg after the Revolutionary War, material artifacts were far from passive markers of rank or political identification. They made Anglo-American society.
---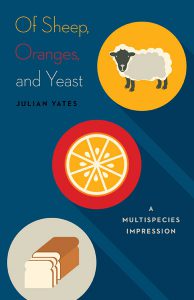 Julian Yates
Of Sheep, Oranges, and Yeast: A Multispecies Impression  (Minnesota, 2017)
Bringing together conversations in animal studies, plant studies, ecotheory, and biopolitics, Julian Yates crafts scripts for literary and historical study that embrace the fact that we come into being through our relations to other animal, plant, fungal, microbial, viral, mineral, and chemical actors. What emerges is a methodology that fundamentally alters what it means to read in the twenty-first century.
---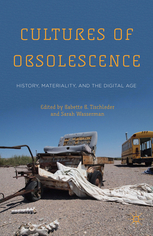 Babette Tischleder and Sarah Wasserman, eds.
Cultures of Obsolescence: History, Materiality and the Digital Age (Palgrave MacMillan, 2015)
Obsolescence is fundamental to the experience of modernity, not simply one dimension of an economic system. The contributors to this book investigate obsolescence as a historical phenomenon, an aesthetic practice, and an affective mode.
---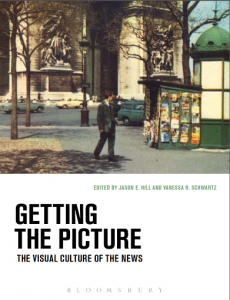 Jason E. Hill and Vanessa R. Schwartz, eds.
Getting the Picture: The Visual Culture of the News (London: Bloomsbury, 2015)
Powerful and often controversial, news pictures promise to make the world at once immediate and knowable. Yet while many great writers and thinkers have evaluated photographs of atrocity and crisis, few have sought to set these images in a broader context by defining the rich and diverse history of news pictures in their many forms.
For the first time, this volume defines what counts as a news picture, how pictures are selected and distributed, where they are seen and how we critique and value them. Presenting the best new thinking on this fascinating topic, this book considers the news picture over time, from the dawn of the illustrated press in the nineteenth century, through photojournalism's heyday and the rise of broadcast news and newsreels in the twentieth century and into today's digital platforms. It examines the many kinds of images: sport, fashion, society, celebrity, war, catastrophe and exoticism; and many mediums, including photography, painting, wood engraving, film and video. Packed with the best research and full colour-illustrations throughout, this book will appeal to students and readers interested in how news and history are key sources of our rich visual culture.
---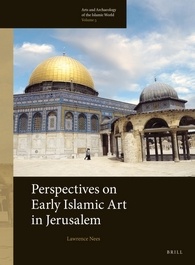 Lawrence Nees
Perspectives on Early Islamic Art in Jerusalem (Netherlands: Leiden, 2015)
Through its material remains, Perspectives on Early Islamic Art in Jerusalem analyzes several overlooked aspects of the earliest decades of Islamic presence in Jerusalem, during the seventh century CE. Focusing on the Haram al-Sharif, also known as the Temple Mount, Lawrence Nees provides the first sustained study of the Dome of the Chain, a remarkable eleven-sided building standing beside the slightly later Dome of the Rock, and the first study of the meaning of the columns and column capitals with figures of eagles in the Dome of the Rock. He also provides a new interpretation of the earliest mosque in Jerusalem, the Haram as a whole, with the sacred Rock at its center.
---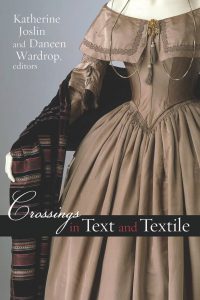 Margaret D. Stetz
"Dressing the Aesthetic Woman." Crossings in Text and Textile. Daneen Wardrop and Katherine Joslin, eds. (Durham, NH: New Hampshire UP, 2015) 149–66.
Crossings in Text and Textile explores the diverse range of transatlantic representations of clothing in nineteenth- and early twentieth-century literature. This collection of essays demonstrates that fashion history and literary history, when examined together, prompt fresh understandings of the complexities of race, class, and sexual identity. By bridging material culture and discourse, Crossings establishes the significance of fashion—while neglecting none of its aesthetic appeal—to offer historicized readings on a variety of topics, from Jane Austen's nuanced display of social interactions through the economics of muslin to the 1871 Park and Boulton cross-dressing trial and Jessie Fauset's selection of apparel to express racial power. The geographic span of textiles from different economic areas around the globe includes Asia, Africa, Europe, and North America. By making use of transatlantic texts to consider the political and social positioning of both workers and consumers, the collection further expands upon the emerging cross-disciplinary study of reading dress.
---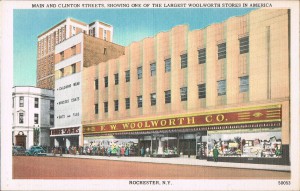 Ed. Deborah Andrews, former Director of the Center for Material Culture Studies
Shopping: Material Culture Perspectives (UD Press, 2014)
The themes explored in this volume are based on the Fall, 2011, iteration of the Material Culture Studies course MCST299, "Research in Material Culture Studies: The Architecture of Shopping." This class was open to the public and all lectures were recorded. These lectures, which are often a version of the chapters found in "Shopping: Material Culture Perspectives" can be accessed here.The essays in this volume—authored by historians with varied specialties, an anthropologist, an environmental journalist, a geographer and urban planner, and practicing artists—demonstrate how a material culture perspective on shopping yields insights into multiple aspects of American culture.
---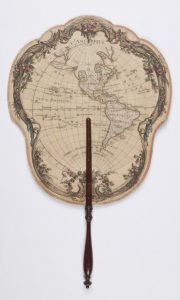 Martin Brückner
Common Destinations: Maps in the American Experience is a path-breaking exhibition that charts objects and imagery related to America's historical fascination with maps. Created by Martin Brückner, Professor in English and American Literature at the University of Delaware, assisted by Winterthur's Catharine Dann Roeber, Alana Staiti and Heather Hansen, Common Destinations was displayed in the Winterthur Galleries (April 20, 2013 to January 5, 2014) and is permanently available online. It features over 100 Winterthur library and museum collections objects and images as well as loans from other collections.
Throughout history, maps have defined the American experience. Since the early 1500s they introduced the American continent to European explorers and colonists. After the American Revolution, they shaped the image of the new nation; and during the nineteenth century, maps documented westward expansion, civil war, and the closing of the frontier. But while today we are used to seeing historical maps as a popular strategy for telling the American story to history buffs and movie fans alike, what we are not used to seeing is how the very maps that declared independence or measured the progress of the nation were used day-in and day-out by people who went about their business in spite of social change and political crisis.