Beginning March 23rd, Professor Margaret Stetz is offering the virtual course "Why We're Still Wilde About Oscar" through The Rosenbach. Read below for the class description: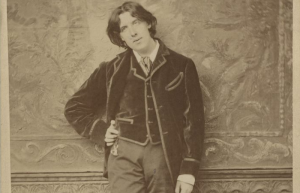 Anyone who saw the 2019 exhibition Camp: Notes on Fashion at the Met Museum, which included works by and photographs of Oscar Wilde (1854–1900), knows that he is an ongoing inspiration to writers, filmmakers, social activists, and also to visual artists such as fashion designers. Queer communities, Irish American communities, Black communities, feminist communities, and many others continue to embrace him. Why is he a figure today of such—to use a favorite word of his—importance? Our course will address that question by looking at some key writings by and about him and will explore his appeal across the lines of gender, sexuality, nationality, and race. It will also highlight the role of the Rosenbach in preserving his legacy and the significance to Wilde's career of Philadelphia, which he visited twice in 1882.  
For more information, or to register for the course, click here.