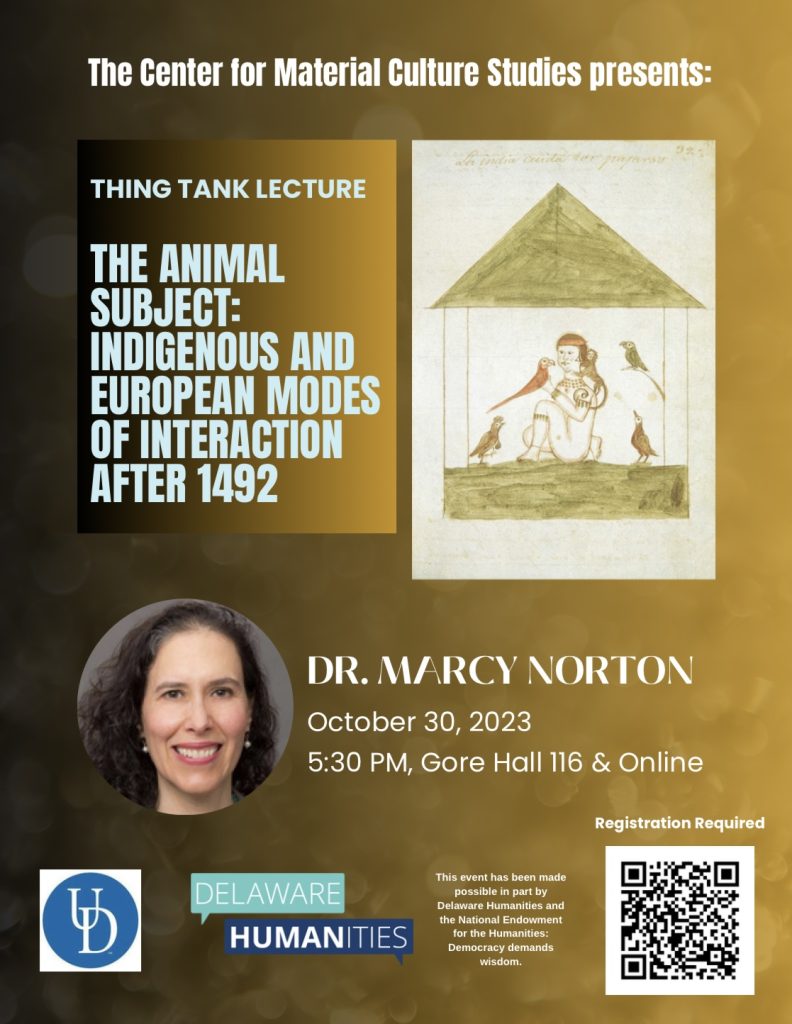 On Monday, October 30 2023, Associate Professor Marcy Norton will present a public talk at 5:30pm in Gore Hall 116. The talk is part of this year's CMCS Thing Tank on "Subaltern Matters." 
This in-person event will also be broadcast live on Zoom. To register for virtual attendance via Zoom, please visit this link (after registering, you will receive a confirmation email containing information about joining the live broadcast.)
Professor Norton's lecture is titled, "The Animal Subject: Indigenous and European Modes of Interaction after 1492." Almost every day a new scientific report demonstrates that nonhuman animals are thinking, feeling, even talking subjects who share many capacities with humans and exceed them in others. The questions that Prof. Norton poses in her talk are: What has made this kind of knowledge obvious to Indigenous groups for centuries? And why has this understanding been so difficult for Europeans and settler colonists to apprehend until recently? She suggests that deeply rooted livestock practices have shaped Western views of animals more deeply and profoundly than any philosophical or religious tradition. And, focusing on early modern Amazonia and Mexico, she will show how traditional Indigenous ways of being with animals—or rather "modes of interaction" —center the shared subjectivity of all kinds of animals. Moreover, these Indigenous modes may have played a role in the Western shift towards recognizing animal subjectivity more widely.
Professor Norton is an associate Professor of History at the University of Pennsylvania and is a historian of the early modern Atlantic World with a focus on Latin America and Spain. Her research is guided by two questions: How did colonialism shape the Americas?  And how did Native America shape European modernity? Thematically she is most interested in writing history that explores the intersections of environment, embodiment, and thought, concerns that have guided her work on the history of food, drugs, science and inter-species relationships. She is the author of Sacred Gifts, Profane Pleasures: A History of Tobacco and Chocolate in the Atlantic World (Cornell University Press, 2008, winner of the best book prize from the Association for the Study of Food and Society), and "Subaltern Technologies and Early Modernity in the Atlantic World" (Colonial Latin America Review, 2017). Her book The Tame and the Wild: People and Animals after 1492 (Harvard University Press) is scheduled to appear in January 2024.
This event has been made possible in part by Delaware Humanities and the National Endowment for the Humanities: Democracy demands wisdom.