Katerina Acuna
WPAMC
Kate's summer studying indigenous heritage artifacts in the southwest will include a week of excavation at a 14th century Ancestral Pueblo settlement. Following her fieldwork, Kate will spend eight weeks as an Objects Conservation Intern at the Arizona State Museum. During her internship period, she will participate in the pottery blitz, an annual five-week collaborative pottery conservation project designed to help manage a collection of over 20,000 ceramic vessels. She will also conserve a collection of polychrome wooden masks for the exhibition, Pahko'ora/Pahko'ola: Mayo and Yaqui Masks from the James S. Griffith Collection. By drawing connections between fieldwork and museum conservation, Kate hopes to come away with a broader understanding of Native American history and culture in the southwest, as well as the innovative approaches to large-scale conservation that small institutions with a leadership role in the field of indigenous heritage preservation like ASM have developed.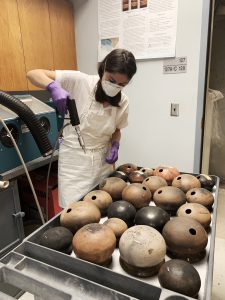 Image Caption: Katerina (Kate) Acuna surface cleaning ceramic vessels by applying pressurized, non-destructive dry ice crystals known as "CO2 snow." Photograph by Susie Moreno, Project Conservator, Arizona State Museum.
Olivia Armandroff
WPAMC
Olivia spent her summer researching the archive of New York City salon hostess and tastemaker Muriel Draper which is held at the Beinecke Library at Yale University. In the archive, she reviewed Draper's correspondence with artistic luminaries including Walker Evans, Lincoln Kirstein, and Mark Tobey and the artwork they gave to her. She also examined Draper's own interior design sketches and her written manuscripts. This served as the basis for Olivia's master's thesis in the Winterthur Program in American Material Culture, dedicated to the art of caricature and its role in private, rather than public, discourses such as in the correspondence shared between Muriel Draper and Mark Tobey.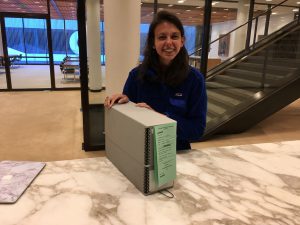 Christine Bachman
Department of Art History
Christine's dissertation, "Outside the Pages: The Making and Meaning of Early Medieval Book Covers," examines the few surviving book covers from northwestern Europe dating to the period 700-800 CE. It develops a new framework for analyzing these covers based on three major functions they performed – encasement, embellishment, and enshrinement. These functions synthesize the utilitarian and aesthetic properties of the covers and are characterized by the dynamic interactions between early medieval books and their makers and users. By considering book covers in terms of a holistic definition of function, the study asserts them as a central element in the evolving process of the making and use of early medieval manuscripts. During the summer of 2019, Christine traveled to Dublin (Ireland) where she met with experts and worked with original materials, including two early medieval Irish book shrines.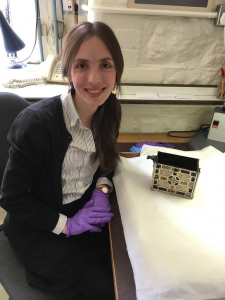 Image caption: Christine Bachman with the early 11th-century Irish book shrine, the Soiscéal Molaise.  Photograph by Paul Mullarkey, National Museum of Ireland.
Ken Beidler
Department of Art
Ken will be spending three weeks traveling in central and northern Florida studying the ceramics of early Floridian Mound Cultures in anthropology and museum collections.  Through a collaboration with The Ceramic Laboratory at the University of Florida in Gainesville Ken will study ceramic sherds from different sites around Florida and learn about the process of recovering, identifying and dating archaeological material to reconstruct narratives of early American life.    A second year graduate student in the MFA program at the University of Delaware (MFA 2020) Ken's concerns as an artist and researcher center on intersections of cultural systems of meaning/value,  on the role of material objects within these systems and the collaborative potential of art/science partnerships as a way to inspire artistic practice.  The research project will culminate with a series of sculptural works for the MFA Thesis exhibit  at the Delaware Contemporary (May 2020) and a solo show at the Delaplaine Art Center, Frederick, Maryland (May 2020).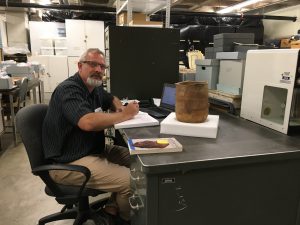 Image Caption:  UD MFA Candidate, Ken Beidler, sketching and taking observations of a pottery vessel from the Weedon Island Cultural Period (600 AD-1000 AD) at the Florida Museum of Natural History, Gainesville, FL.
Emily Brzezinski
Emily spent the summer assisting with the renovations of the American Museum of Natural History's Northwest Coast Hall in the Anthropological Objects Conservation Lab. Renovations will update this historic hall in collaboration with Northwest Coast advisors and curators. In addition to smaller objects in the lab, Emily worked on the documentation and structural treatment of the nine monumental carvings, or "totem poles", that have been installed at the museum since the 1800s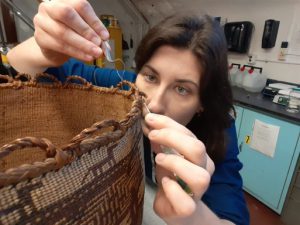 Image Caption: WUDPAC Graduate Fellow Emily Brzezinski repairs the woven cedar bark loops to the rim of a Skokomish basket.
James Kelleher
WPAMC
James spent his summer researching some of the earliest houses in southeastern Massachusetts, including intensive fieldwork investigating and measuring both private and public houses and house museums in and around Plymouth. Tape measure in hand, James crawled through attics and basements to understand the construction history and original layouts of these houses, many of which have been substantially modified in later centuries. He hopes this detailed research will provide new information about how early settlers conceived of their homes. He also completed a research trip to East Anglia, experiencing the landscapes and buildings that many early New England colonists left behind. This included visits to timber-frame structures dating back to the 13th century.
Anastasia Kinigopoulo
Anastasia's thesis for the Winterthur Program in American Material Culture considers the work of Frederick E. Cohen, an English artist who was active in Michigan and Ohio in the 1840s and 50s. Cohen painted landscapes, genre scenes, and dozens of lapidary-hued portraits of Ohio and Detroit's wealthy denizens—its mayors, fire brigade leaders, merchants, college founders, and children—during a time when the region witnessed dizzying levels of transformation.  This summer, Anastasia sought out Cohen's work in numerous institutions and collections throughout Ohio and Detroit, including the Detroit Institute of Art, the Detroit Historical Museum, and Kenyon College. She also examined an album of Cohen's drawings recently donated to the Newberry Library in Chicago, which reveals the wide array of sources that informed the artist's work.  She hopes that her work increases awareness of the richness and complexity of nineteenth-century Great Lakes visual culture.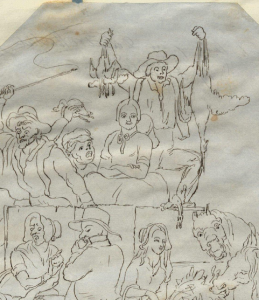 Joseph Litts
WPAMC
Joseph's thesis, "Painting a Material World," examines a 17th century painting entitled The Four Continents by Swiss artist Gregor Brandmüller. After training at the French Academy, Brandmüller returned to Switzerland, where he merged exotic luxury goods like Cherokee basketry, scarlet ibis feathers, coral, and Japanese lacquer with white and black bodies. This painting is part of a larger visual campaign that naturalized and domesticated European colonial endeavors in present-day North America. Over the summer, Joseph travelled extensively in Switzerland and France. He examined the painting in La Rochelle, France, saw other works by the artist, and probed various archives for materials related to Franco-Swiss control over the Mississippi valley in the 17th century.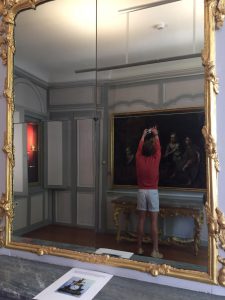 Image Caption: Joseph examining Gregor Brandmüller, Les Quatre Parties du Monde (The Four Continents). Oil on canvas, 1688. La Musée du Nouveau Monde, La Rochelle, France. Photograph by Michael Hartman.
Joseph Nash
Department of English
Joseph's dissertation proposes the genre of the "posthumous novel" as an instructional form for American literary history and criticism. A novel that is edited and published after its author's death presupposes a narrative entangled with a longing for the dead author. More than longing, however, the posthumous novel depends on certain materials—notes, drafts, correspondence, ephemera—as well as a certain materialism: namely, a publisher's belief that the posthumous novel will sell. In short, the posthumous novel depends upon a community of people and things for its existence despite its ascription to a singular author. By paying particular attention to posthumous novels in American literature, Joseph hopes to interrogate one of America's most enduring problems: the relationship between the individual and the community.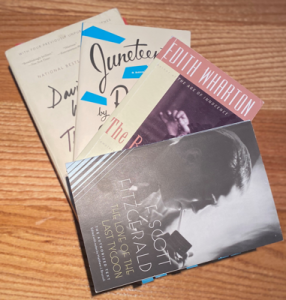 Image Caption: Four posthumous novels from prominent American authors: The Pale King (2011) by David Foster Wallace, Juneteenth (1999) by Ralph Ellison, The Buccaneers (1993) by Edith Wharton, and The Love of the Last Tycoon (1993) by F. Scot Fitzgerald. Photo by Joseph Nash.
Kristen Nassif
Department of Art History
Do we see only with our eyes? At the end of the nineteenth century in America, artworks and objects answered resoundingly: no. Through tactile relief maps, trompe l'oeil paintings, sculptures, X-rays, and medical models, audiences grappled with what it meant to see and to be blind. Kristen's dissertation, "Blindness: Unseeing Sight in American Art and Material Culture," explores how blindness fundamentally shaped experiences of making and viewing aesthetic objects. Her project asks how blindness was productive and central to understandings of vision in the United States. This summer, Kristen will conduct archival research and complete a chapter of her dissertation.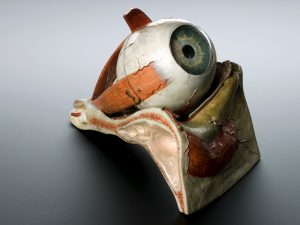 Image caption: Model of human eye, 1870, by Dr. Auzoux, French. Graduated grey background. Credit: Science Museum, London. CC BY
Samantha Nystrom
Department of English
My dissertation, Constructing Locality: Rooting the Nineteenth-Century British Novel in Garden Culture, argues that nineteenth-century British novels took root in the garden. I uncover the garden's influence on the novelistic imagination and suggest that the garden's structure influenced the structure of these novels, directly shaping the ways in which plots and character develop. I argue that various garden structures, such as greenhouses, faux ruins, and landscape parks, helped establish the idea of "the local," the idea of an immediate place, which has proven so important to the history of the novel and environmentalism. In so doing, I suggest that without a culture invested in the garden many plots within these novels could not be actualized. As such, I reorient novels studies and, more broadly, scholarship on British literature, by revealing how the form of the nineteenth-century novel needed the form of the garden to develop.
This summer I traveled to London and conducted archival research at Kew Garden and the British Library. This informed by my chapter on greenhouses gardens, which I drafted during the remaining weeks.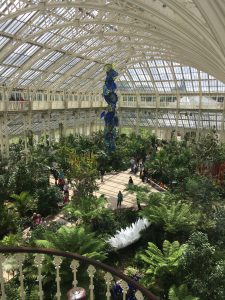 Image Caption: Interior of Kew Garden's Temperate House. Photo by Samantha Nystrom.
Victoria Sunnergren
Department of Art History
With the support of DELPHI, Victoria was able to travel to Santa Fe, New Mexico, where she conducted archival research and made initial community contacts for her upcoming dissertation on the role of gender and sexuality in Pueblo pottery.  She met directly with contemporary artists and traveled to nearby Pueblos to view contemporary pottery works identify materials and relationships that will be critical to the larger dissertation project. Victoria also visited collections in the city, including those of the Wheelwright Museum, the Museum of Indian Arts and Culture, and the Georgia O'Keefe Museum, as well as regional museums such as the Indian Pueblo Cultural Center and the Museum of Northern Arizona.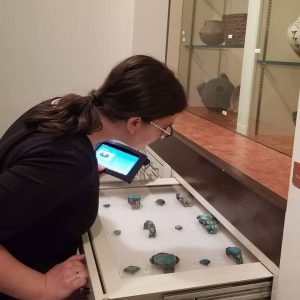 Julianna Ly
Julianna spent her summer leading the ten-day documentation and treatment of David Hockney's 21-foot-long-painted-installation, Snails Space with Vari-Lites, "Painting as Performance." This involved supervising three-preprogram interns (one UCLA/Getty Diversity intern, and two Smithsonian Conservation Internship for Broadening Access (CIBA) interns) to conserve the painting as a public-view treatment in the galleries. The treatment included cleaning of all painted surfaces and reduction of wax residues. In addition to this ten-day treatment, Julianna also treated a tempera on panel mural study for the Mount Hope, West Virginia Post Office by American artist Michael Lenson. Since the painting was about to travel on loan to an exhibition, the painting needed to be stabilized through local humidification and consolidation with an adhesive, and have losses filled and inpainted. Julianna ended her summer co-leading a tear-mending workshop with Chief of Conservation, Amber Kerr, teaching pre-program and graduate conservation students methods of tear repair in canvas paintings.
Image Caption: mage courtesy of the Smithsonian American Art Museum's Lunder Conservation Center. Photo by Laura Hoffman.