---
Justyce Bennett
Winterthur Program in American Material Culture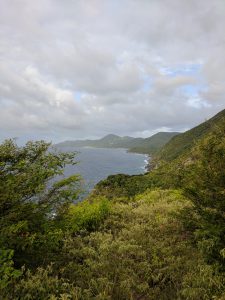 My research focuses on the 1878 labor revolt in St. Croix known as Fireburn. This is one of the most celebrated and revered events in Crucian history. Unfortunately, due to the inaccessibility of the Virgin Island archives there is not very much published work addressing the event. I am compiling oral histories and local traditions on the island to create a timeline of events as well as a more complete record of sites that were destroyed or damaged in the revolt to show how large of an impact it had.
---
Thomas Busciglio-Ritter
Department of Art History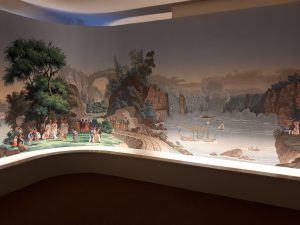 Thanks to the DELPHI 2020 fellowship, I was able to travel to France and conduct research in the collection of the National Wallpaper Museum (Musée national du papier peint) in Rixheim, Alsace. There, I studied Jean Zuber's 1834 Views of North America, a panoramic wallpaper produced in Alsace for the American market. This work is crucial to my dissertation project, as it illustrates transatlantic discourses around U.S. landscapes at the time. My visit also allowed me to delve into primary documents dealing with the creation of this wallpaper, notably letters between Jean Zuber and the artist involved in designing the scenes, as well as documents revealing the breadth of the U.S. consumer market for Zuber wallpapers.
---
Nora Carleson
Department of History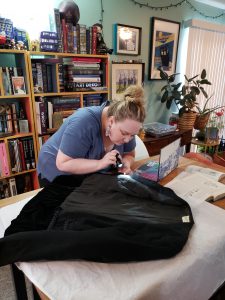 Nora spent her summer researching the role First Ladies like Francis Cleveland, Caroline Harrison, and in particular, Florence Harding had in shaping a unique "American" fashion style that both shaped and reflected the country's culture and politics around the turn of the twentieth century. Unable to visit archives due to the COVID-19 pandemic, Nora took advantage of previously unavailable online archives and sources that were opened for study during the pandemic. She also scoured the internet to find period dressmaking and design books and well as clothing from First Lady Florence Harding's favorite New York-based designer, Harry Collins. Purchasing a few of the items, she was able to create her own "mini archive." Nora hopes that this work, which will be the focus of a chapter in her dissertation, tentatively titled, " From Paul Revere to Plains Indians and Peruvian Patters: The Politics of Progressive Era Fashion in America, 1880-1930″ will show that the question of what American fashion was, who made it, and whom it was made for is essential to better understanding design, politics, and national culture during the Progressive Era.
---
Kris Cnossen
Winterthur/University of Delaware Program in Art Conservation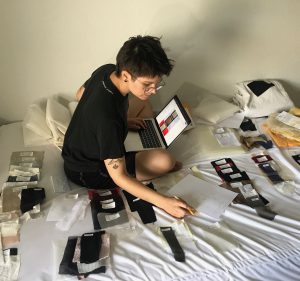 How do you care for textiles in modern art? This summer, Kris helped the Robert Rauschenberg Foundation answer this question by creating a fabric identification resource, The Sheer Library. In order to begin caring for an artwork, you need to know what it is, in both the intangible and tangible sense. When an artwork is well cared for it will be more accessible, creating new research and learning opportunities. Care can also be a privilege, making The Sheer Library an important resource to make accessible in and of itself. With the support of the Foundation and DELPHI, The Sheer Library is publicly available on Kris's website: http://kriscnossen.com
---
Zoë Colón
Department of Art History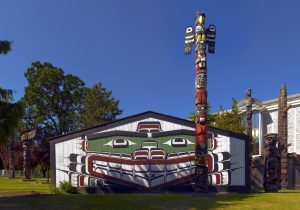 Zoë's dissertation examines twentieth-century Native North American graphic arts within the context of colonial-environmental regulations that managed Indigenous bodies through their relationships with animals. With the support of DELPHI, Zoë will travel to Washington and British Columbia to complete research on her dissertation chapter that addresses Northwest Coast graphic arts production in the 1940s. This artistic development was preceded by the formation of the International Pacific Salmon Fisheries Commission in 1937, a regulatory body jointly operated by the American and Canadian governments dedicated to managing Pacific Northwest salmon populations. The Commission's neglect of centuries-old Indigenous fishing treaties, concomitant with assimilationist policies such as bans on potlatching ceremonies and mandatory boarding school attendance, required Northwest Coast Native communities to adapt their lifestyles. Zoë will explore the subsequent artistic responses to this new life in drawings of human-salmon interactions made by students of St. Michael's Indian Residential School in the early 1940s, Mungo Martin's paintings and drawings commissioned by the University of British Columbia's Museum of Anthropology between 1949-1951, and Ellen Neel's 1949 silkscreen designs on note cards, the first instance of commercial Northwest Coast art. DELPHI will allow her to study relevant collections of archives, artwork, and material culture at institutions in Seattle, Vancouver, and Alert Bay.
Image caption: Mungo Martin House, built and painted in 1953 by Mungo Martin, Victoria, British Columbia (CC BY-SA 2.5.)
---
Tiarna Doherty
Department of Art History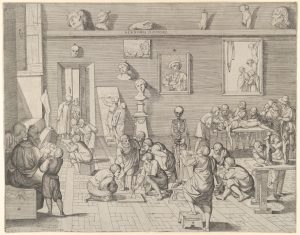 Tiarna's dissertation, "Vicente Carducho's Studio-Academy: Modelling Artistic Practice and Connoisseurship," analyzes primary sources in order to arrive at an understanding of informal art academies in early modern Spain and evaluates their role in educating artists and art aficionados. Tiarna's research seeks to understand the knowledge value of Carducho's collection of art and objects through an analysis of such pieces in relation to his writings about theory and practice. In addition, she argues that the Diálogos de la Pintura (1633) advances the development of connoisseurship skills and a vocabulary used to discuss art that is consistent with seventeenth-century treatises published in Italy and the Netherlands. Since travel to Spain was not possible over the summer of 2020 due to the global Covid-19 pandemic, Tiarna dedicated the summer to non-collections based research and writing.
Image caption: Pierfrancesco Alberti (Italian, 1584–1638), An Academy of Painters, n.d. Etching. The Metropolitan Museum of Art, New York, (49.95.12).
---
Michael Doss
Department of English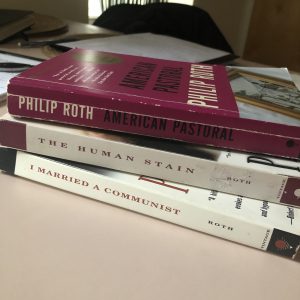 The project Michael completed this summer focuses on Philip Roth's American Trilogy (American Pastoral (1997), I Married a Communist (1998), and The Human Stain (2000)), and Tim O'Brien's The Things They Carried (1990). By pairing a Jewish writer who poses questions about culture and ethnicity with a white non-Jewish author, I think about what emerges in our constructions of literary history when we read this way. According to my reading, Roth's trilogy describes postwar American culture through things. American decline, a shifting sense of morality, and troubling social and economic times emanate in all three novels, and much has been written about this. My work, however, focuses on how these novels stage production and consumption as American phenomena necessary to understand the failures of American culture. Time and again, Roth's many characters in the American Trilogy fail to read and diagnose what they are after; objects are most revealing. Even when they obscure, they leave material traces that offer insight; for instance, a character's veil in American Pastoral offers an overdetermined yet pointed example of this very difference between characters and things. I read networks of objects from these three novels to consider how a lament for white middle class American culture emerges from the various objects of production (and consumption) Roth is concerned with. Alongside Roth, I devote some attention to O'Brien's The Things They Carried, which offers a different understanding of how constellations of objects serve as material indictments of the past. Both Roth and O'Brien offer novels that characterize the 1990s as a decade obsessed with the notion that American production and consumption was shifting in radical ways.
---
Laura Earls
Department of History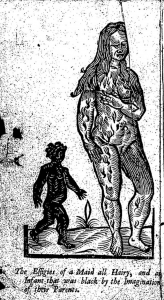 Seventeenth- and eighteenth-century English prescriptive literature and receipt books often listed recipes for wax-based ointments to soothe the skin of and facilitate milk production for breastfeeding mothers. It was somewhat widely understood that pregnant women who fixated on other people or objects could cause their children to resemble those fixations, as represented by this woodcut from the 1694 publication Aristotle's Master-piece. However, by the eighteenth century, physicians argued that the employment of wet nurses could similarly affect children's development. I plan to contribute this work to The Recipes Project, a digital humanities resource for historical recipes. Furthermore, this research will comprise part of the second chapter of my dissertation, which examines the roles of wax and the body in Atlantic world cultural negotiations from the sixteenth through eighteenth centuries.
---
Peter Fedoryk
Winterthur Program in American Material Culture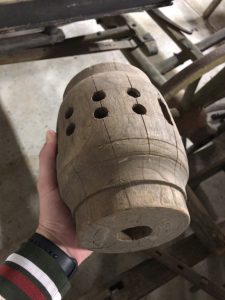 Peter Fedoryk is working on a MA thesis in the Winterthur Program in American Material Culture that considers American Elm (Ulmus americana) and objects made from it in early North America. His project focuses on two object case studies: wheel hubs and bark canoes. Elm was one of the more common woods used in Euro-American wheel construction and elm bark was a valued material for building Haudenosaunee (Iroquois) watercraft. Peter's work explores how biotic material participates in the shaping of landscapes, both as living trees and subsequently in the forms of utilitarian objects of transportation. He spent the summer of 2020 researching the life and work of Ezekiel Smith II, an eighteenth-century carpenter and wheelwright living in Rehoboth, MA, both remotely and in-person at the Winterthur Museum (DE), the Carpenter Museum (MA), and Old Sturbridge Village (MA).
---
Jordan Hillman
Department of Art History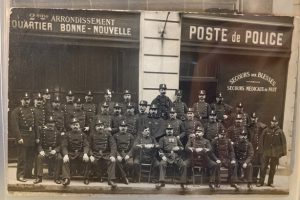 My dissertation, "Mediating Authority: Representations of the Police in Paris circa 1900,"  examines the ways in which artists responded critically to changes in the political and urban landscape of Paris at the end of the 19th century through the figure of the police officer, who became the most visible symbol of state authority during this time.  In particular, I am interested in understanding how such artistic responses to the police exploited and were shaped by new developments in avant-gardism, political activism, printmaking, and mass media around 1900. Postcards like this one are important for my dissertation because they show how the police sought to be highly visible in the city through their distinctive uniforms and mandatory moustaches, but also through the circulation of their orderly image through photography. The artists at the center of my dissertation disrupted this official, authoritative image of police, remaking it through caricatural illustrations, avant-garde prints, and comedic films that challenged the efficacy of the force and their command in Paris around 1900. 
---
Molly Mapstone
Winterthur Program in American Material Culture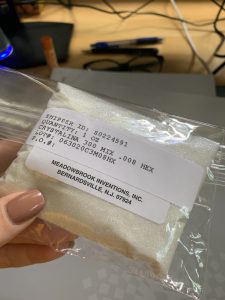 Molly Mapstone's Master's thesis focuses on contextualizing glitter within art history using material culture methodologies. Glitter exists simultaneously in craft stores, car paint, phone cases, and on surfaces of sculptures in the National Gallery of Art in Washington, DC. What does it mean that a material so automatically dismissed as kitsch, feminine, or craft is becoming a common fixture in the work of fine artists? Starting with a scientific analysis of glitter samples, working through an overview of social histories, and moving to a survey of uses of glitter in fine art, Molly argues that glitter is an important material in contemporary art that deserves specific attention paid to its materiality. Glitter is a new, seductive, and democratized material that calls to question, once again, the boundaries drawn between art and the everyday.
---
Rebecca Olsen
Department of English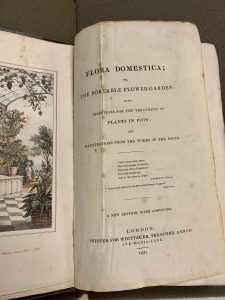 A Victorian reader who purchased a household management text received detailed instructions on household tasks ranging from removing insects from vegetables to bandaging wounds and administering medicines. Rebecca's dissertation, "Domestic Ecologies: Household Management and Environmental Entanglement in Nineteenth-Century British Literature," explores how women-authored texts utilize household management activities to actively reimagine domesticity and the domestic sphere. Whether by describing houseplants as family members or by extending human medical practices to help beloved animals, such texts contribute to nineteenth-century ecological thinking in creative and radical ways. Though her summer plans for archival research were disrupted, Rebecca will be in residence as a Dissertation Fellow at Winterthur Museum, Garden & Library for the spring semester (February – May 2021). Her research there will utilize their extensive collection of household management texts, gardening texts, and other advice books.
Image caption: Elizabeth Kent, Flora Domestica; or, The Portable Flower-Garden (London: Whittaker, Treacher, and Co., 1831). Winterthur Library.
---
Nathan Thayer
Department of Geography & Spatial Sciences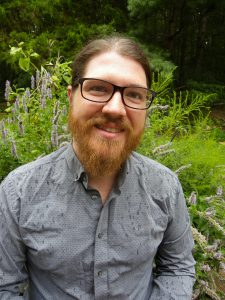 In the wake of the murder of George Floyd by Minneapolis Police officers we have seen a national resurgence of BLM/anti-racist protest movements which, while always an issue among BIPOC communities, brought a national conversation about race, civil rights, and police violence back to the forefront of (often white) media and political discourse. My dissertation research is aimed at understanding and contextualize efforts to tackle racism in the United States at three distinct scales; nationwide (U.S.A.), within the classroom, and the individual. First, through content analysis of various media sources, this study will add to anti-racist geographies, geographies of violence, and literatures on whiteness through a national examination of white-on-white violence at BLM/civil rights protests (e.g., Portland), focusing on allyship, violence, solidarity work, and white supremacy. Second, I will engage with anti-racist geographic pedagogy through the development of a course teaching geographies of inclusion, diversity, equity, and anti-racism in order to 1) develop, deploy, and distribute resources, tools, and syllabi for teaching anti-racist geographies, and 2) survey students enrolled in the course class to measure changes in perceptions, beliefs, and understandings of racism in the United States. Finally, I will undertake an autoethnographic project thinking through my own subjectivity and positionality as a white, cisgendered man in academia as it relates to teaching anti-racist geographies.
---
Kyle VanHemert
Department of English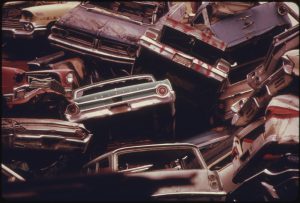 My dissertation tells a fresh story about the emergence of environmental politics in the postwar United States—one that puts aesthetics, not ecology, at the center of the era's burgeoning concern. This summer, I completed a draft of my first chapter, which examines widespread debates about "Ugly America" in the late-1950s and early-1960s. Material culture is at the heart of the story. When postwar Americans railed against Ugly America, they were above all talking about things—litter and junkyards, billboards and befouled streams. Singly, these objects were mere eyesores. In aggregate, they took on powerful new meanings, leading millions of Americans to take up the "war on ugliness" as a vital national cause.