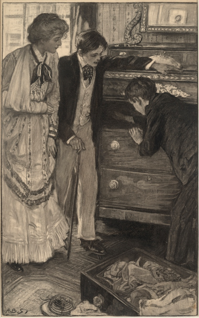 BOOKS AND ILLUSTRATION AT THE TURN OF THE CENTURY IN BRITAIN AND AMERICA
A public symposium presented by The Fellowship of American Bibliophilic Societies
Saturday, May 19, 2018 · 1:30 pm
Delaware Art Museum
2301 Kentmere Parkway, Wilmington, DE
Free for Museum Members or with Museum admission
In conjunction with The Fellowship of American Bibliophilic Societies' (FABS) Annual Tour & Symposium and The Delaware Bibliophiles, the Delaware Art Museum will hold "Books and Illustration at the Turn of the Century in Britain and America," a symposium with three speakers. These talks will focus on illustration and book design—a strength of the collections of the Delaware Art Museum and the University of Delaware Library. A tea reception will follow.
Please visit www.delart.org/event/books-and-illustration/ for details and registration.
---
Speakers and Presentations:
"Ouida Illustrated: Commerce, Politics, and Representation in the Illustrated Editions of Ouida's Works"
Jesse R. Erickson, Postdoctoral Researcher in Special Collections and Digital Humanities, University of Delaware
A celebrity who has since faded into relative obscurity, Ouida (b. Maria Louise Ramé, 1839-1908) was among the most prolific and bestselling authors of her generation. Adored by her fans but ridiculed by her critics, women and men, young and old, from different social classes, vocations, political parties, and nationalities persistently found something desirable in her stories. One of the clearest indicators of her long-term success was the degree to which her novels had been marketed in cheap reprints and illustrated editions by the turn of the century. This talk will take an in-depth look at a range of illustrations for Ouida's novels. It adopts a transnational approach to a comparative analysis of specific regional editions and their variant states.
 "Rediscovering an American Woman Illustrator, Alice Barber Stephens"
Martha H. Kennedy, Curator, Popular & Applied Graphic Art, Library of Congress
The drawings that Golden Age illustrator Stephens created for the literary classics Middlemarch and The Marble Faun mark a high point in her career. They reflect the impact of her training with leading American and European artists as part of her matured, distinctive and intuitive approach to illustration.
 "Christina Rossetti's Goblin Market: 150 Years of Art & Illustration"
Casey Smith, Visiting Professor of English, West Chester University
Christina Rossetti's best-known poem Goblin Market, first published by Macmillan in 1862 with illustrations by her brother Dante Gabriel Rossetti. More than any other poem from the Victorian era, Goblin Market has enjoyed an endless fascination for aritsts and illustrators. This presentation will focus on the illustrations and designs of Dante Gabreil Rossetti in the early 1860s and Laurence Housman's thirty years later in the early 1890s. Art and illustration from 20th and 21st century editions of Goblin Market will also be discussed: Margaret Tarrant (1912), Florence Harrison (1923), Arthur Rackham (1933), Kinuko Craft (1973), and John Bolton (1984).
---
This talk is sponsored by the Delaware Art Museum's Friends of the Helen Farr Sloan Library and by the Mark Samuels Lasner Collection, University of Delaware Library.
---
Image: Why, what's the matter?, asked Miss Celia, as Ben dropped the handful of what looked like rubbish, 1905, Illustration for Under the Lilacs, by Louisa May Alcott (Boston: Little, Brown, 1905). Alice Barber Stephens (1848-1932). Charcoal on illustration board, 19 3/4 × 12 3/4 in. (50.2 × 32.4 cm). Delaware Art Museum, Gayle and Alene Hoskins Endowment Fund in memory of Diane Nangle, 2013