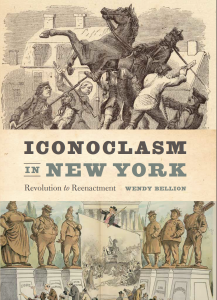 King George III will not stay on the ground. Ever since a crowd in New York City toppled his equestrian statue in 1776, burying some of the parts and melting the rest into bullets, the king has been riding back into American culture, raising his gilded head in visual representations and reappearing as fragments. In this book, Wendy Bellion asks why Americans destroyed the statue of George III—and why they keep bringing it back.
Locating the statue's destruction in a transatlantic space of radical protest and material violence—and tracing its resurrection through pictures and performances—Bellion advances a history of American art that looks beyond familiar narratives of paintings and polite spectators to encompass a riotous cast of public sculptures and liberty poles, impassioned crowds and street protests, performative smashings and yearning re-creations. Bellion argues that iconoclasm mobilized a central paradox of the national imaginary: it was at once a destructive phenomenon through which Americans enacted their independence and a creative phenomenon through which they continued to enact British cultural identities.
Persuasive and engaging, Iconoclasm in New York demonstrates how British monuments gave rise to an American creation story. This fascinating cultural history will captivate art historians, specialists in iconoclasm, and general readers interested in American history and New York City.
Purchase Iconoclasm in New York