The Modern Language Association of America announced the winner of its fifty-seventh annual William Riley Parker Prize for an outstanding article published in PMLA, the association's journal of literary scholarship. The author of this year's winning essay is Sarah Wasserman, assistant professor of English at the University of Delaware, Newark. Her article "Ralph Ellison, Chester Himes, and the Persistence of Urban Forms" appeared in the May 2020 issue of PMLA. James Mulholland, associate professor of English at North Carolina State University, is receiving an honorable mention for "Translocal Anglo-India and the Multilingual Reading Public," which appeared in the March 2020 issue of PMLA.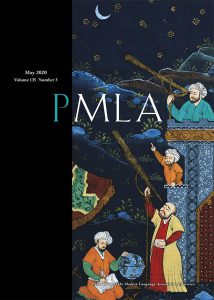 The committee's citation for the winning article reads:
Sarah Wasserman's "Ralph Ellison, Chester Himes, and the Persistence of Urban Forms" is a beautifully written essay on the political and temporal paradoxes of what we now call gentrification. Wasserman provides a compelling account of the formal strategies that Ellison and Himes developed to show "how infrastructure registers urban change, congealing past and present" and thereby disrupting simple notions of loss, preservation, and progress. Instead of seeing Ellison and Himes as writing in antithetical genres, aesthetic registers, and fictional forms—pulp detective story versus psychologically realistic novel—we can understand them both as using "the conventions of the novel as a backdrop against which they plot formal changes and social transformations that remain incomplete." Wasserman demonstrates that by examining treatments of objects and urban spaces, rather than explorations of human psychology, we can reevaluate the taxonomies we use to value and understand literature and the political histories it mediates.
The MLA's oldest award, the prize for an outstanding article in PMLA was first presented in 1964. In 1968 the prize was named in memory of a distinguished former editor of the journal and executive secretary of the association, William Riley Parker.
Read the article through Morris Library by clicking here.