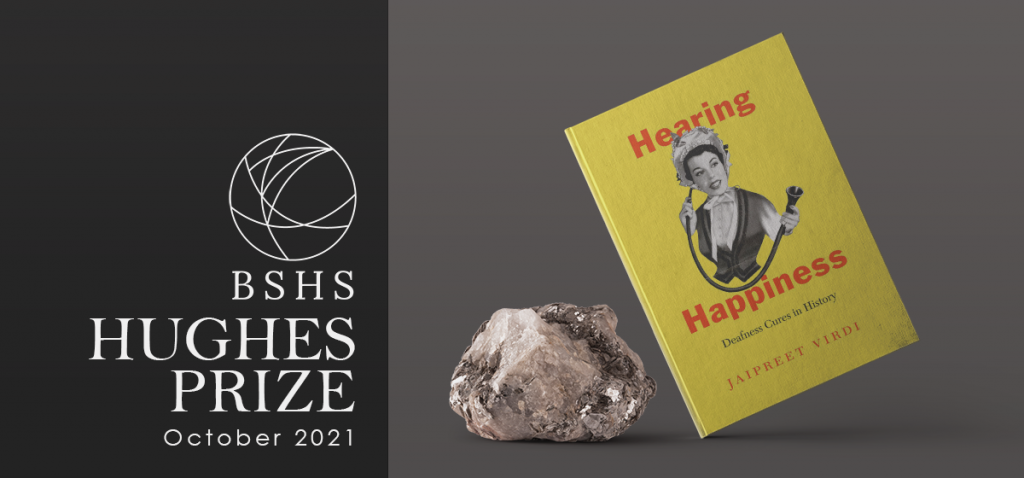 The British Society for the History of Science recently announced that the  2021 Hughes Prize for an accessible book in the history of science is awarded to Dr. Jaipreet Virdi for the book Hearing Happiness: Deafness Cures in History.
Through lyrical history and personal memoir, the author shares her experience of being stuck in "aural limbo" and documents an endless quest for a cure in American society by cataloging the history of cures. Ear trumpets, violet-ray apparatuses, vibrating massagers, and electrotherapy machines, are some of the curious objects examined in this book. 
The Jury of the BSHS Hughes Prize noted: "Jaipreet Virdi's marvellous book Hearing Happiness won over the judges by its unique mixture of personal insight and perceptive historical analysis of a fascinating and understudied topic – the development of technology to cure deafness in the USA and the UK. Virdi – a deaf person, in the words of her book jacket – writes powerfully and clearly for the general public about the complex issues around deafness and the technologies that have been developed in response to it. This book can be an inspiration to young historians, who may realise that they, too, have a unique insight into a particular aspect of science or medicine."
Dr. Virdi is an Assistant Professor in the Department of History at the University of Delaware. Click the following link to find out more about Hearing Happiness.