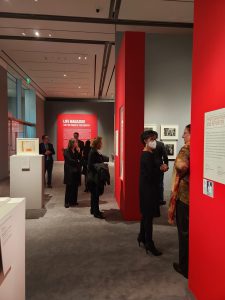 A new exhibition on Life magazine is now on view at the Museum of Fine Arts, Boston. The exhibition draws on unprecedented access to Life magazine's picture and paper archives, as well as photographers' archives, to reexamine the creation and impact of Life's iconic images. It brings together not only vintage photographs, but also contact sheets, assignment outlines, internal memos, and layout experiments to demonstrate how Life's photo-essays moved from shooting assignments to printed stories.
The photographs in the exhibition represent the wide range of photographers who worked for Life, including Margaret Bourke-White, Larry Burrows, Henri Cartier-Bresson, Frank Dandridge, Gordon Parks, and W. Eugene Smith, as well as related works by contemporary artists Alexandra Bell, Alfredo Jaar, and Julia Wachtel. These immersive contemporary installations invite viewers to further reconsider the larger implications of implicit biases and systemic racism in today's media.
The exhibition is accompanied by a multi-authored catalogue which received the College Art Association's 2021 Alfred H. Barr Jr. Award and the 2021 Photography Network Book Prize. Associate Professor of Art History Jason Hill and Art History PhD candidate Meghan Angelos contributed to the catalogue.
The exhibition is on view through January 16, 2023. To learn more, please visit the MFA's website.