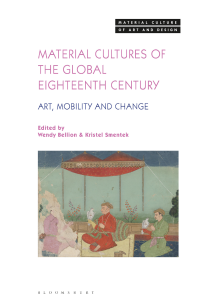 Professor Wendy Bellion, Associate Dean for the Humanities, together with University of Delaware Art History alumna Kristel Smentek, edited a book recently published by Bloomsbury, Material Cultures of the Global Eighteenth Century: Art, Mobility and Change. Partial funding for the book was provided by the Center for Material Culture Studies. With essays exploring prints, architecture, silk, and porcelain, among other materials, Material Cultures of the Global Eighteenth Century will be a valuable resource for scholars of the eighteenth century and material culture, alike. For more information, see the Bloomsbury Publishing website and its description of the book below.
Things change. Broken and restored, reused and remade, objects transcend their earliest functions, locations, and appearances. While every era witnesses change, the eighteenth century experienced artistic, economic, and demographic transformations that exerted unique pressures on material cultures around the world. Locating material objects at the heart of such phenomena, Material Cultures of the Global Eighteenth Century expands beyond Eurocentric perspectives to discover the mobile, transcultural nature of eighteenth-century art worlds. From porcelain to betel leaves, Chumash hats to natural history cabinets, this book examines how objects embody imperialism, knowledge, and resistance in various ways.

By embracing things both elite and everyday, this volume investigates physical and technological manipulations of objects while attending to the human agents who shaped them in an era of accelerating global contact and conquest. Featuring ten essays, the volume foregrounds diverse scholarly approaches to chart new directions for art history and cultural history. Ranging from California to China, Bengal to Britain, Material Cultures of the Global Eighteenth Century illuminates the transformations within and between artistic media, follows natural and human-made things as they migrate across territories, and reveals how objects catalyzed change in the transoceanic worlds of the early modern period.