On January 28, 29, and 30, 2019, the Center for Material Culture Studies (CMCS) at the University of Delaware held its first data entry marathon for our ongoing DH project ThingStor, a material culture database for finding and cross-referencing objects cited in American literature and the visual arts.

For the data-thon, members of the ThingStor team included Dr. Martin Brückner (PI and co-director of the Center for Material Culture), and graduate researchers Alba Campo Rosillo, Adam Grimes, Michael Doss, Hee Eun Kim, Joseph Nash, Samantha Nystrom, Rebecca Olsen, Rebekah Swerdlow, Brett Seekford, Victoria Sunnergren, and Jackson Truschel. They dedicated 3 days to expand the database by adding nearly 100 previously identified objects gleaned from works of fiction and paintings. In order to prepare the database as a prototype, we decided to limit the objects to sources created in the English-speaking world between 1845 and 1875.
Some of more frequently recurring objects we identified were writing objects, clothes, weaponry, architectural elements, light fixtures, and tableware.

Surprisingly popular were references to "carpet-bags" in the mid-nineteenth century; as the next two screens show, they cropped up in vastly different genres, textual sources and even in a painting, Richard Caton Woodville's Waiting for the Stage (1851):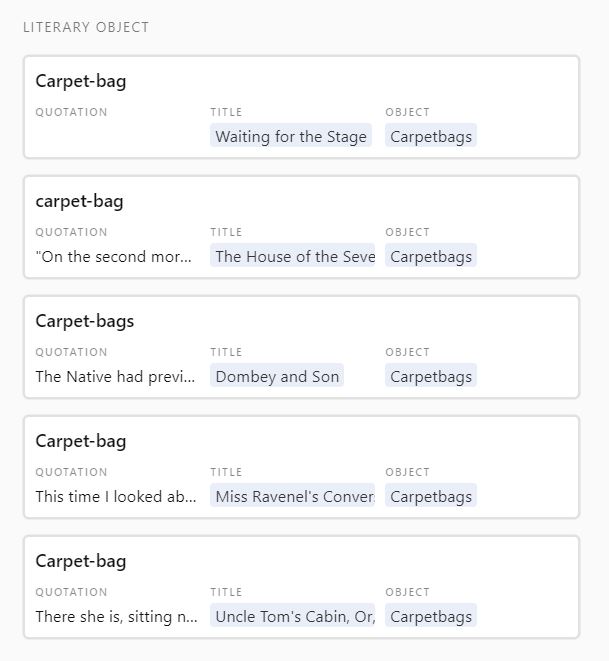 Our current sample of objects reveals how some authors, like Nathaniel Hawthorne, were really invested in the object world: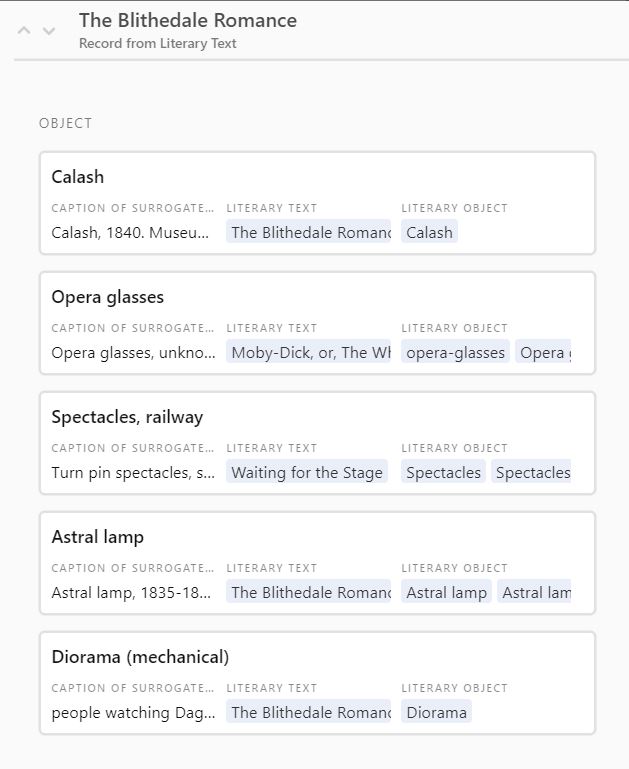 This is just a small sample of our findings so far!  ThingStor's potential as teaching and research resource is enormous, and as we incorporate more objects we hope it will connect with students and teachers across the disciplines.
For now, we are looking forward to the official rollout of the prototype in the spring!
If you are interested in contributing to the ThingStor database, please join our "WANTED: 1,000 OBJECTS" initiative and submit an object!  It's easy! Just fill out the ThingStor Object Entry Form.
Answers may be submitted anonymously, and the form should take no more than five-minutes to complete. Feel free to share this form link with your students, colleagues, or any other interested researchers.
If you have any questions about ThingStor or the WANTED: 1,000 OBJECTS initiative, please contact us at materialculture@udel.edu.
Thank you for joining us – we look forward to hearing about your objects!