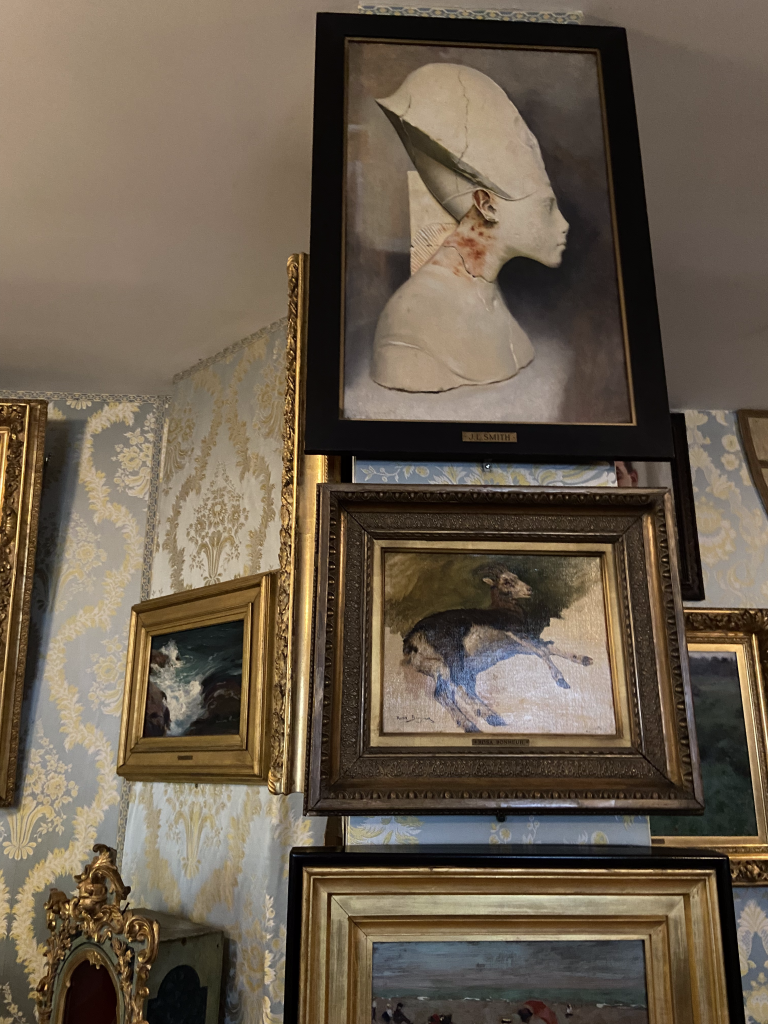 Graduate student Lea Stephenson conducted exploratory research for her dissertation "'Wonderful Things': Egyptomania, Empire, and the Senses, 1870-1922" with the support of the CMCS Rockwood Fund.
Lea notes that in addition to providing funds for research materials, including books on Egyptomania and topics related to American imperialism, the fund supported her research trip in January 2022 to the Boston area to visit several museum collections and archival repositories.
During this trip, Lea studied various forms of material culture integral to her dissertation chapters and determine potential historical actors for the larger Egyptomania project. Extended time in Boston also informed her reading of this particular New England iteration of the Egyptian Revival.
During her week in Boston, Lea visited a variety of collections, including the Boston Athenaeum, Boston Public Library, Isabella Stewart Gardner Museum, and the Museum of Fine Arts, Boston. At the Athenaeum, she examined travel albums and watercolors created by nineteenth-century Boston tourists in Egypt and gained a better understanding of how Victorian travelers envisioned ancient Egyptian sites through photographic material.
"While closely studying 1870s photographs taken by Arthur Dexter on his Grand Tour, alongside watercolors of Egyptian temples by Arthur Rotch, I was able to explore possible new Boston artists and collectors that will likely be incorporated into my dissertation's first chapter on sensorial souvenirs," Lea added. Her preliminary research at the Athenaeum also acquainted her with archival material (rare books, albums) for future short-term fellowships in Boston.
Lea also spent two full days at the Isabella Stewart Gardner Museum, a key Gilded Age collector involved in her dissertation. While studying Gardner's collection, Lea examined the Egyptian souvenirs throughout the galleries, specifically her bottles of Egyptian sand.
"Spending time in the collection has been invaluable in understanding how Gardner staged these Egyptian materials alongside American watercolors, Italian textiles, or additional souvenirs," Lea adds. Visiting Gardner's collection in person to conduct research also further underscored the specific sensorial components of second-wave Egyptomania. Through this, Lea recognized how Gardner embedded an Egyptian artifact within her indoor Italian courtyard that doubled as a garden.
Subsequent days of her research included visits to study the John Singer Sargent Triumph of Religion murals at the Boston Public Library. Sargent traveled to Egypt in 1891 to complete studies for these mural panels, which include scenes depicting Egyptian pharaohs and statuary. Time spent with these paintings installed upon lunettes and vaults enabled her to understand the artist's reinterpretation of ancient Egypt as a pagan, decadent era and how he staged a legible ancient past within the spaces of an American Renaissance building.
Lea's last days of research included storage and collection visits within the Museum of Fine Arts, Boston. "I was able to examine a few of Sargent's paintings completed in Egypt and additional works by Joseph Lindon Smith, one of the artists who witnessed excavations in Egypt and documented antiquities. Studying the Smith paintings in person revealed his use of specific materials, like cardboard, and the creation of a painting technique to mirror the texture of Egyptian antiquities." Lea also toured the ancient Egyptian galleries in the museum and closely examined select artifacts, including mummified human remains, sarcophagi, and wall panels. She recounts that viewing these objects in person was especially helpful to understand how Euro-American artists and collectors deciphered these objects, and then reimagined the materials into second-wave Egyptomania. In addition, visiting the galleries also helped Lea get acquainted with Egyptian objects once in Victorian Boston collections, such as a range of small-scale ushabti.
"Overall, I'm extremely grateful to CMCS and the Rockwood Fund for enabling me to lay the groundwork for my dissertation chapters."
Apply for the CMCS Spring Grant opportunities! Click the following link to learn more: https://www.materialculture.udel.edu/index.php/2021-2022_summary-grant-opportunities-deadlines/.
---
Lea Stephenson focuses on late nineteenth-century American and British art, specifically the Gilded Age and transatlantic artists. She is interested in the representation of materiality in painting and ambient interiors, including the relationship between art and the senses and portraiture. Lea received her Bachelor of Arts in Art History from Temple University in 2015 and Master of Arts from the Williams College Graduate Program in Art History in 2017, where her qualifying paper explored John Singer Sargent's ownership of Madame X through the lens of haunting and spiritualism. She previously held curatorial internships at the Saint-Gaudens National Historic Site, Philadelphia Museum of Art, Clark Art Institute and the Dallas Museum of Art. In 2018, Lea was the Decorative Arts Research Fellow at the Preservation Society of Newport County, where she researched leaded glass in early McKim, Mead & White interiors and Gilded Age residences. She is currently working on an article about the multi-sensorial rooms in the Newport cottage Kingscote for publication in Nineteenth-Century Art Worldwide for 2020.