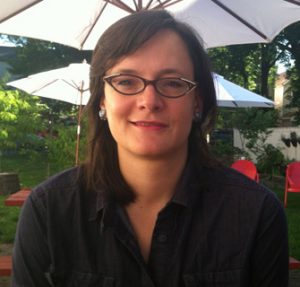 Bess Williamson was a participant in our first Delaware Institute for the Public Humanities in 2008. Earning a PhD in American History from the University of Delaware, Dr. Williamson has since published numerous articles on the history of design and material culture. Her work has appeared in Winterthur Portfolio and American Studies, with reviews in Design and Culture and Design Issues.
Dr. Williamson is currently an Assistant Professor at School of the Art Institute in Chicago. At SAIC, Williamson teaches a range of design history courses, from introductory surveys of modern design history to graduate seminars on issues in design, politics, and technology. She is  also the coordinator of the graduate programs in Art History at SAIC. Her research is particularly interested in social and political concerns in design, including environmental, labor, justice, and rights issues as they shape and are shaped by spaces and things.
Dr. Williamson's forthcoming book (NYU Press, 2018), Designing an Accessible America, traces the history of design responses to disability rights from 1945 to recent times.
SAIC: Bess Williamson's Faculty Page