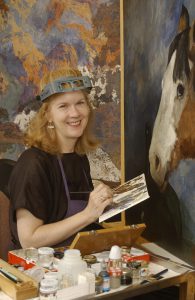 Joyce Hill Stoner
| | |
| --- | --- |
| Position: | Edward and Elizabeth Goodman Rosenberg Professor of Material Culture |
| Office: | Director, Preservation Studies Doctoral Program & Painting Conservator Winterthur/University of Delaware Program in Art Conservation |
| Phone: | |
| Fax: | |
| Email: | jhstoner@udel.edu |
Joyce Hill Stoner received her B.A. from William and Mary in 1968 (Phi Beta Kappa, summa cum laude, with a major in Fine Arts and honors project in painting conservation). She received her M.A. from the NYU Institute of Fine Arts in 1970 and her Diploma in Conservation from the NYU Conservation Center in 1973. She was a Kress Visiting Scholar with John Brealey at the Metropolitan Museum (1980), and a Getty Visiting Scholar with Andrea Rothe at the Getty Museum (1985). In 1995 she completed a Ph.D. in Art History from the University of Delaware, focusing on the techniques of paintings, lithographs and decorated interiors by James McNeill Whistler. She began a pre-conservation program at V.C.U. in 1975. Stoner became the head paintings conservator at Winterthur in 1976, head of the conservation section in 1980, and served as Director of WUDPAC from 1982 to 1997. She became Chair in 1990 when WUDPAC became part of a Department, along with the new Ph.D. program in Art Conservation Research, which she squired through University and Winterthur Academic Committee approval. She was promoted to a full professorship in 1996 and resigned as Chair in 1997. She is now the Director of the UD Preservation Studies Doctoral Program.
Stoner has written over 80 articles or book chapters. She co-edited a multi-author 890-page Butterworth-Routledge book on The Conservation of Easel Paintings, in which was published in November 2012. She was senior conservator for the team treating Whistler's Peacock Room at the Freer from 1987 to 1992 and supervised the treatment of a 19' x 60' N. C. Wyeth mural in 1998. She has carried out treatments for the Freer Gallery of Art, Colonial Williamsburg, the Virginia Museum of Fine Arts, the Brandywine River Museum, the Wyeth family, and various private collectors; she continues an active program of treating paintings in the presence of the undergraduate and graduate students she is supervising. Her portrait was painted by Andrew Wyeth. She guest curated the show FACTORY WORK: WARHOL, WYETH, AND BASQUIAT and wrote for and coordinated authors for the catalogue. The show appeared in three venues in 2006-07. She co-curated another exhibition, WYETH VERTIGO, for the Shelburne Museum, summer 2013.
For the field, Stoner has served as Executive Director for the Foundation of the American Institute for Conservation (FAIC) from 1975-1979, coordinator of the FAIC oral history project (1975-present), Managing Editor of Art and Archaeology Technical Abstracts (1969-1985), and as a grant reviewer for the NMA, IMS, FAIC, Kress, and Getty Grant Program. She served as Vice President of the College Art Association until 2005 and on the IIC Council (as Vice President) and the Delaware State Arts Council until 2010, the Wyeth Foundation for American Art, the AATA Board of Editors for the Getty Conservation Institute, and the U.S. Senate Art Advisory Committee. Stoner was awarded the AIC University Products Lifetime Achievement Award in 2003, the AIC Paintings Specialty Group Award "for outstanding contributions to the field of paintings conservation" and the College Art Association and Heritage Preservation Award for Distinction in Scholarship and Conservation, both in 2011.
Dr. Joyce Hill Stoner offers a practical internship to allow ARTC students to accumulate pre-graduate school conservation experience treating paintings and painted surfacesat Winterthur on Wednesdays from 2 to 8:30 during the fall semester.